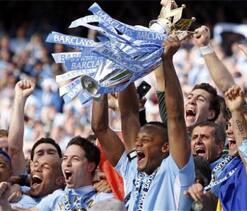 Arya Yuyutsu
It's January, the season of cold winds, failed New Year resolutions and a quick, brief transfer window for the world of club football. This obviously means that all sorts of players are linked with all sorts of moves, some believable, others, well, a wee bit fantastical.
Probably
The surer ones first, as we look at the web of rumours that abound, and let's start with the never happening saga of Dutch playmaker Wesley Sneijder. He's been linked to Manchester United, Tottenham Hostpurs, QPR, a flurry of random clubs including, obviously, the cash splurging Manchester City. Quite what he would do at Eastlands is unclear given the number of options at hand, but given Jack Rodwell's form, even Jean Alain Boumsong in midfield would be an improvement. The latest on Wes, though, seems to be from Turkey (the country, not the deliciously edible bird) as the playmaker's agent has confirmed talks with Galatasaray are underway.
Didier Drogba has also been among the rumours of late with the Old Lady apparently interested in the athletic ex-Chelsea star. Juventus have reportedly already been in talks with the pony-tail flaunting striker as his Chinese stint hasn't been quite as hunky-dory as he may have expected it to be.
Sir Alex Ferguson may have distanced himself from any signings this month, but that hasn't stopped rumour mills, like this one, from conveniently attributing them to a move for Crystal Palace starlet Wilfred Zaha. With Tottenham also initially in the running, with the exciting image of Sir Alex engaging Andres Villas Boas in a hyped of game of tug-of-war, AVB has now thrown in the towel and the road is clear for Sir Alex to pull the ropes, figuratively of course.
There is more, of course, with Theo Walcott reportedly set to sign a 5-year-deal at Arsenal, but we can't come up with more cringe-worthy jokes on the subject.
Possibly
Still in the realm of gossip, some transfer rumours seem to have a sane feel about them. Inter Milan, for instance, are reportedly fluttering their gorgeous eye-lashes at Man City striker Edin Dzeko. The £25m made from the striker's sale could help fund a mega-massive £50m bid for Napoli striker Edinson Cavani. Not that they need any extra moolah.
Taking a quick train down to London, Everton midfielder and fantasy football's superhero-with-a-strange-wig Marouane Fellaini is being linked with a switch to a lighter shade of blue. Chelsea may already have signed Demba Ba but the much-hated Rafa Benitez seems hell-bent on winning over fans' loyalty with a flurry of in-form signings. Fellaini does have a release clause set in his contract, but we've not had a chance to pore over it. And given our non-existent relationship with the Merseyside club, we'll just have to trust rumour mills that it's significantly more than the £22m figure being bandied about.
No, seriously?
Putting ludicrous rumours in this section is always a dangerous thing. You never know which one goes through, leaving some rather unsavoury egg on our collectively aghast faces. But here we go anyway.
If popular UK tabloid The Sun is to be believed, Manchester United are looking to replace an ageing midfielder and left-back with an equally ageing midfielder and left-back. Strangely non-reliable rumour has it that Man United is in the hunt for Ashley Cole and Frank Lampard's signatures on the dotted lines. Quite what that would achieve other than irk a few Chelsea fans is beyond us. That said, Frankie would definitely improve United's penalty record this season!
David Beckham may well be heading to Qatar as the rumour sounds too ludicrous to be completely false. He has reportedly received a £20m offer to play in Qatar's Q League. If we knew a team from the league, we'd name it, but for now, Goldenballs seems set to settle back in his beloved England and has even been out house hunting recently.
Paris Saint-Germain may be splashing cash buying players like a cash-loaded woman at the world's biggest discount-store but PSG coach Leonardo has surely helped take it all a little too far He recently had this to say about the world's best non-Barca player: "Cristiano Ronaldo? Paris Saint-Germain have become a club where anything is possible." For all you know, we could see Leo's team submit a $1b bid to whisk the Portuguese star away, triggering his mammoth release clause.
And the big one...
Is it Daniel Sturridge to Liverpool, Demba Ba to Chelsea, Zeki Fryers to Spurs or even Joe Cole to West Ham? Well, the big massive news emerging out of the tabloids and "confirmed rumours" column today is that Jade North has headed south from FC Tokyo to Brisbane Roar. Not big enough for you? Well, it's massive for dear old Jade and we wish him all the best at his new club!