NEW DELHI: The banned terror outfit United Liberation Front of Asom-Independent (ULFA-I) has recently threatened a high-ranking rail official and demanded Rs 5 lakh for social welfare works. The matter came to light after an IPS officer from Chhattisgarh Cadre, who is currently posted with the Home Ministry, shared a letter sent by ULFA-I to the Northern Railways (NR) official.   
In a letter dated April 20, 2018, the banned terror outfit threatened NR official Anuj Kumar to arrange Rs 5 lakh, within 15 days,  that would be used for 'social welfare' of the local people.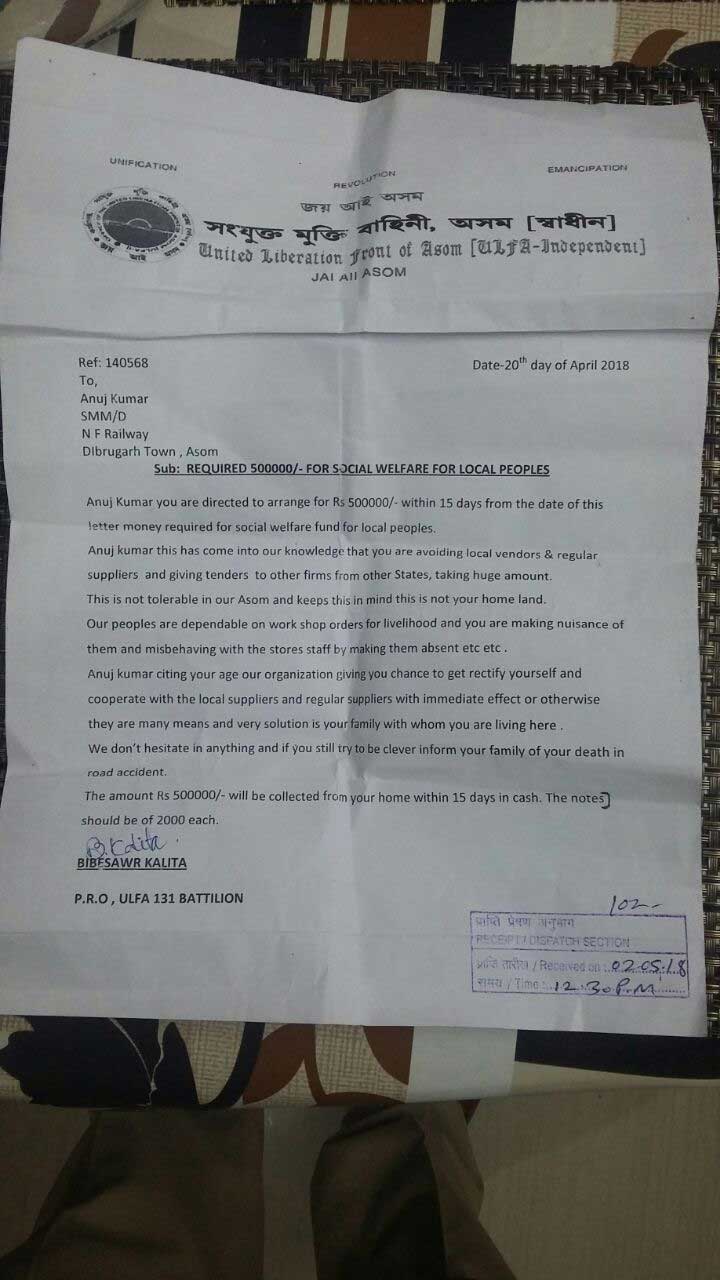 Though the letter, which was undersigned by Bibesawr Kalita, PRO, ULFA 131, Battilion, the outfit also accused the officer of ignoring the local vendors and suppliers and awarding tenders to others forms from other states.
It also charged the officer of taking a huge bribe in lieu of awarding the tenders to them.
The outfit warned that it was totally unacceptable to it and cautioned the officer to keep in his mind that he was in Asom which is not his homeland.
The banned outfit further stated that the locals were entirely dependent on work orders for their livelihood and the officer was creating a nuisance by misbehaving with them and ignoring them in while awarding the tenders. 
This was making their lives miserable, the letter claimed.
In the latter part of the letter, the organisation said that it was giving yet another chance to the officer to mend his ways and start cooperating with the local vendors and regular suppliers. 
It, however, warned the officer of dire consequences if its demands are not met.
It said that the amount – Rs 5 lakh- will be collected from the officer's home within 15 days and that the notes should be of Rs 2000 each.
This is not the first instance when the banned terror outfit has demanded from rich businessmen and high-ranking government officials.
Last year, it demanded Rs 1 crore as extortion from a tea estate in Tinisukia.
On November 23, ULFA-I sent an extortion demand note to the manager of the Samdang Tea Estate after which the people associated with the tea estate along with the locals around were terrorised.
The demand note said, "Please accept our revolutionary. You/Your company is courteously requested to contribute INR 10000000.00 (Rs One crore only) to our organizational fund. Your co-operation in making this payment promptly would be greatly appreciated."