'Modi Used President for his Advertising': Congress Chief on Murmu's Parliament Address
Congress chief Mallikarjun Kharge's remarks came after President Droupadi Murmu addressed the joint sitting of Parliament and said the country has a government that is "stable, fearless, decisive".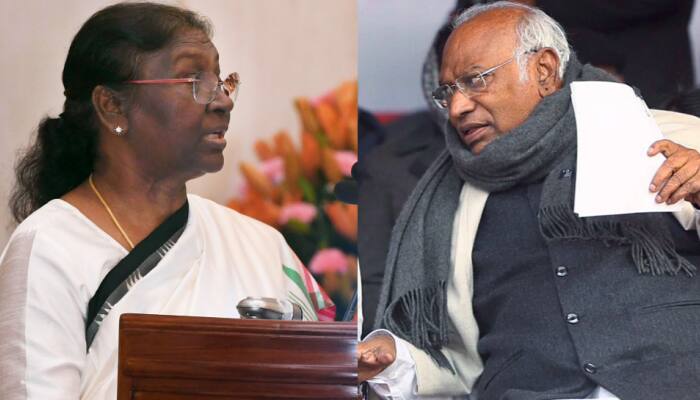 New Delhi: Congress president Mallikarjun Kharge on Tuesday (January 31, 2023) reacted to President Droupadi Murmu's address to the joint sitting of Parliament and said that Prime Minister Narendra Modi has done his government's "advertisement" through her. Kharge also said that if the government through the President is claiming that the country has progressed so much, then why the poor continues to suffer due to unemployment and high inflation. He alleged that the schemes renamed by the Modi government are not reaching out to the poorest of the poor.
"The President's address is the government's statement that has come through the President. It is not a new thing... It is only a routine matter and she has expressed those programmes and achievements which the government wanted her to say," Kharge told the news agency PTI.
"In fact, if those achievements are very good, then the people should not feel the pinch of inflation and unemployment. Even the investment is not coming," he said.
The Congress chief alleged that the Narendra Modi-led government has once again made "jumlas" before people by making tall claims of opening schools, and medical colleges, which any government does routinely.
"We were hoping that the nation would be given some hope in the President's speech today. But the government seems insensitive towards issues like unemployment, inflation, and border security as there was no solution in sight. When the Modi government is not ready to accept the pain of the public, so how can it solve them," Kharge asked.
"We are disappointed that such misuse of public money is not an issue for the government. This is a government of advertisements, Modi ji has used the President for his advertising. As always this government is of only propaganda and this was visible today," he said.
Kharge's remarks came after President Murmu on Tuesday said the country has a government that is "stable, fearless, decisive", giving thrust to 'virasat' (heritage) as well as 'vikas' (development) and working for all classes without any discrimination.
In her first address to the joint sitting of Parliament on the first day of the Budget session, she also spoke of the government's relentless fight against corruption, the "biggest enemy of democracy and social justice".
India by 2047, Murmu said, has to be a country that is self-reliant and fulfills its humanitarian obligations.
LIVE: President Droupadi Murmu addresses both Houses of the Parliament https://t.co/nY2zeEnqAW

— President of India (@rashtrapatibhvn) January 31, 2023
The Narendra Modi-led government has always kept national interest supreme, she said in her over hour-long speech.
"From surgical strike to a firm crackdown on terrorism, from a befitting response to every misadventure from LoC to LAC, from abrogation of Article 370 to triple talaq, my government has been recognised as a decisive government," Murmu stated.
Live Tv