BENGALURU: The maha exit poll collated by Zee News shortly after the polling ended on Saturday predicted a hung assembly in Karnataka with no political party winning a clear majority in the 225-member assembly. According to the Zee Maha exit poll, BJP is likely to win 102 seats, Congress 92, JD-S 26 and others, including independents, 2.
This implies that no major political party will be able to reach the halfway mark of 113 seats required for a simple majority.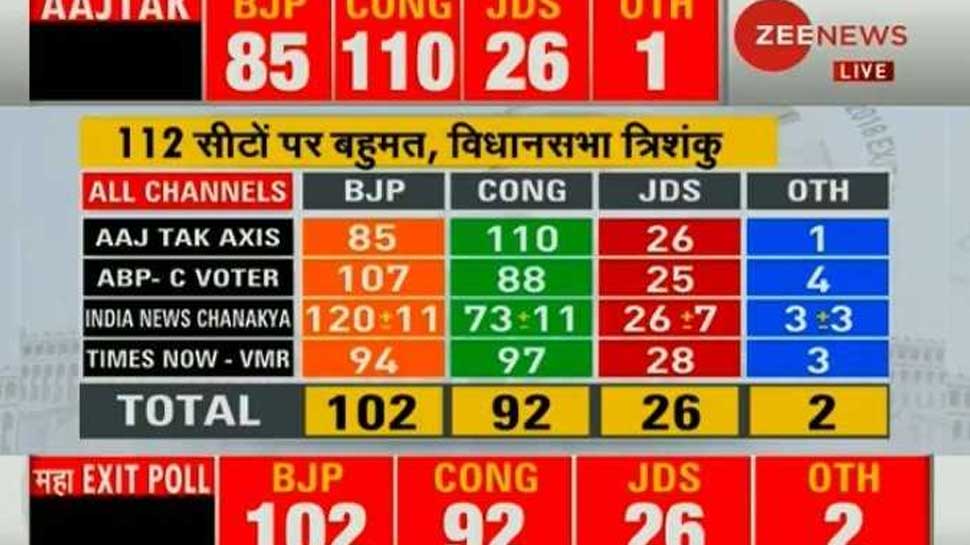 In such a scenario, the JD(S) led by HD Deve Gowda will assume the role of a kingmaker in the later stage of government formation in this southern state. Though the final picture will emerge only after the counting of votes on May 15, the exit poll predictions have clearly shattered the hopes of Congress to retain power in the state for the second time and the BJP, which was hoping to make a comeback, putting the ball in the HD Deve Gowda's court.
Here is what the major exit poll surveys projected for Karnataka.
-According to ABP-C Voter exit poll, BJP is likely to win 97-109 seats, Congress 87-99, JD-S 21-30 and others 1-8 in Karnataka. 
-Republic TV-Jan Ki Baat exit polls on Karnataka assembly elections 2018 predicts that BJP will be the single largest party with 95-114 seats. Congress is likely to win 73-82, JD-S 32-42 seats and other 2 to 3 seats in Karnataka. In the 2013 Karnataka elections, Congress had won 122 seats, BJP and JD-S had ended with 40 seats each while 22 seats were won by others and independents.
-According to IndiaTV-VMR exit poll, BJP may win 87 seats, Congress 97 seats, JD-S 35 seats in Karnataka, the survey predicts a hung assembly.  
-News X-CNX exit poll survey predicts BJP will emerge as the single largest party in Karnataka with 102-110 seats, Congress second with 72-78 seats, JD-S + third with 35-39 and others will get 3-5 seats.  
-According to Times Now-VMR Exit poll on Karnataka Assembly elections, Congress will win 90-103 seats, BJP 82-93, JDS 31-39 and others 2-4. Karnataka has a 225-member assembly of which the voting takes place for 224 seats. But this time voting was held for 222 seats only. The results will be declared on May 15 
-Congress will emerge as the single largest party in Karnataka Assembly elections 2018 with 106-118 seats, BJP second with 79-92, JD-S+ 22-30 and others 1 to 4, according to India Today-Axis My India Exit poll. 
-Suvarna on Sunday denied conducting exit poll survey for Karnataka Assembly elections 2018. However, according to media channels, Suvarna conducted exit polls on May 12, following the conclusion of voting in Karnataka. The channels showed the following prediction of Suvarna exit poll - Congress 106-118 seats, BJP 79-92, JD-S 22-30 and others 1-4 seats.
Karnataka Assembly elections 2018: 70% voter turnout, says EC
Polling was held today for 222 seats in the 225-seat Karnataka assembly. Voting takes place for 224 seats. One is nominated from Anglo Indian community
The high-stakes battle for the Karnataka Assembly ended on Saturday evening, with over 35 million voting in an election crucial for the ruling Congress as well as the BJP and the JD-S.
Chief Minister Siddaramaiah said he was "very very confident" that the Congress would retain power in the only major southern state it now rules even as officials said about 70 percent of the over 5.06 crore electorate had voted till 6 pm.
Voting was peaceful by and large barring a few incidents of some non-functional EVMs, missing voter names and procedural delays, a poll panel official said.
All three main contenders for power - Congress, the Bharatiya Janata Party (BJP) and the Janata Dal-Secular (JD-S) - claimed they would win hands down.
Voting in Chikkaballapur and Ramanagara districts witnessed a record 76 percent polling, while the average polling across Bengaluru was 48 percent till 5.30 pm.
The BJP's Chief Ministerial face BS Yeddyurappa was among the first to vote at Shikaripura in Shivamogga district. He has claimed that the BJP will secure 140-150 seats and that he will invite Prime Minister Narendra Modi to his swearing in.
Siddaramaiah ridiculed him after voting on Saturday, saying the BJP leader was "mentally disturbed" and that the Congress was sure of bagging more than 120 seats.
JD-S chief and former Prime Minister HD Deve Gowda, his wife Chennamma and second son HD Revanna cast their votes in their hometown Holenarsipura in Hassan district.
Polling in Bengaluru's Raja Rajeshwari Nagar segment has been postponed to May 28 following the discovery of voter ID cards and deferred in the city's Jayanagar seat following the death of BJP contestant BN Vijaya Kumar.
In all, voting was conducted in 26 of the 28 constituencies in the city.
Karnataka has over 5.06 crore electorate, including 2.6 crore men and 2.5 crore women. A total of 15.42 lakh voters, aged 18-19, have registered for the first time.
The highest number of voters (6.03 lakh) are in Bengaluru South and the lowest (1.7 lakh) at Sringeri in Chikkamagaluru district.
Polling was held in 58,008 stations in 30 districts, with 600 of them dubbed 'pink booths', overseen by women personnel. Over 1.5 lakh security personnel were deployed.
The vote count will take place on May 15.
In all, 2,654 candidates are in the fray, including 219 women. A total of 222 are from the Congress and BJP each, 201 from JD-S, 1,155 Independents and 800 from other national, regional and fringe parties. About 450 contestants are in the battle from Bengaluru.
Siddaramaiah is contesting from Chamundeshwari at Mysuru and Badami in Bagalkot district.
BJP's Lok Sabha member from Ballari B.R. Sriramaulu, contesting from two seats including Badami and Molakamuru (reserved) seat in Chitradurga district, on Saturday worshipped a cow and visited temples before voting.
JD-S state president and former Chief Minister H.D. Kumaraswamy is in the fray from Ramanagara and Channapatna seats in the old Mysuru region. Yeddyurappa is contesting from Shikaripura in Shivamogga district in Malnad region.
Siddaramaiah has fielded his son Yatindra from his hometown Varuna in Mysuru district.