Mona Singh
The 21st century is an era of changes and challenges. With new milestones being achieved in science and technology every day and with an ever changing economical and political climate of the world, the question that arises is how to prepare a child for the challenges lying ahead in today's world. And, the answer probably lies in understanding the skills one needs to cope up with these revolutionary times and gearing up our children to face these. It is important for children to develop skills which help them become cross-culturally competent adults who can handle the challenges that globalization presents. With the world moving away from an industrial age to the age of information and knowledge, our education system and our schools must transform in ways that will facilitate kids to acquire the creative thinking, flexible problem solving, collaboration and innovative skills that they will need to be successful in work and life.
Now, the next big question is when to start preparing a child for these skills? The answer is- as early as possible. Early childhood sets the foundations for life. It is a highly sensitive period marked by rapid transformations in physical, cognitive, social and emotional development. Research has proven that the brain forms as many as 700 neural connections per second before the age of 5. Access to high quality early childhood education (ECE) at this age helps in the cognitive development of children and effectively impacts the learning abilities of children later during their primary, middle and higher education.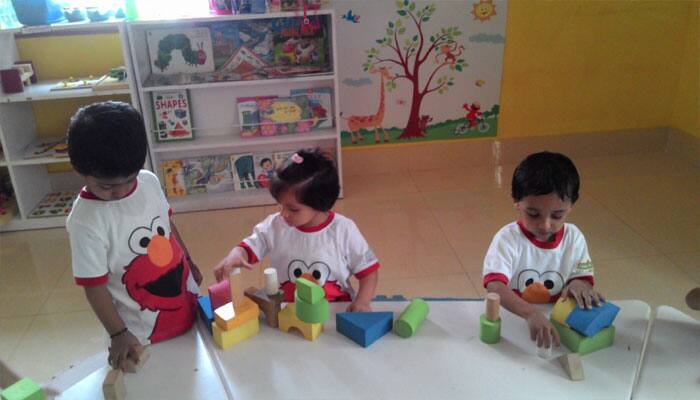 (Block play in progress at Sesame Street Preschool, Kondapur, Gachibowli. Image courtesy: Sesame Schoolhouse)
While today, as parents become more and more aware of the need for quality education, they are still short of better options. In India, early education is still dominated largely by the unorganized commercial education sector. The existing methods still largely depend on rote learning, memorizing the alphabets, few standard nursery rhymes and numbers. Parents anxiously wonder if their child can add. Can she/he count or spell her/his name? The shortcoming not only lies in what a child is taught but also on how a child is taught! It is very necessary to understand that ECE not only helps the child in academics, it also offers life skills. It decides the child's behavior, actions as well as the approach towards their career. Instilling thinking and analytical skills is critical especially during the early years as the mind at this age is open to understanding concepts and building notions.
A vast body of research has demonstrated that children who participate in good quality early childhood programmes tend to be more successful in later school are more competent socially and emotionally, and show better verbal, intellectual and physical development during early childhood than children who are not enrolled in high-quality programmes. Well-designed ECE programmes can significantly enhance young children's well-being in these formative years and in the future, complementing the care they receive at home. Programmes that combine nutrition, health, care and education have a positive impact on cognitive outcomes. Enhancing skills like problem-solving, creativity, analytical thinking, collaboration, communication, ethics and accountability are considered essential for a child's future success. Preschools act as an important medium here to provide quality ECE to the child and to make them school ready. It is, therefore, paramount that education of little children is not limited to teaching them the alphabet and numbers. Encouraging and practicing rote learning to score grades is definitely not the way forward. It limits their power of observation, analysis and rational deduction, skills that we need all through our lives, irrespective of education and profession.  Hence, the need is for a preschool that nurtures curiosity.
In conclusion, it is important to emphasize that ECE needs to be dually focused on providing universal access as well as including programmes that prepare children to face the challenges of the modern world by inculcating 21st-century skills. Child care providers should understand that the success of preschoolers cannot be measured solely on abilities to read and write, and recognize and count numbers. 
(Mona Singh is the Vice President of Sesame Schoolhouse)