NASA's Aqua satellite has captured a natural colour image of the fires in California and the smoke that it has generated in the past few days. The smoke that has shrouded the state has also swept eastward as far as Salt Lake City and is still moving. Dangerous and deadly wildfire has killed six people and caused far more devastation over the past week than any of the scores of blazes raging across the tinder-dry American West this summer.
This natural-color satellite image of smoke in California was collected by the Aqua satellite on July 29, 2018. Actively burning areas, detected by thermal bands, are outlined in red.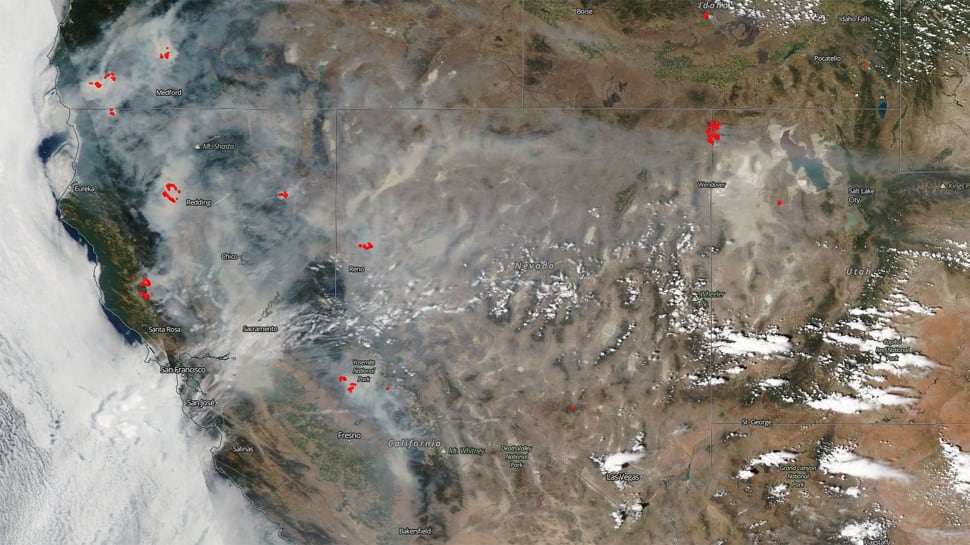 The fire broke out across the state including the Carr fire inferno and the long-standing Ferguson fire near Yosemite National Park as well as the Mendocino Complex north of Santa Rosa. The Carr fire located near Redding, California has exploded over the week from its inception.  So farm it has destroyed 723 residences, 3 commercial buildings, and 240 outbuildings with over 5,000 more structures in danger. Over 3,300 firefighters are engaged in this effort.
The hot, dry weather that contributed to the deadly California firestorm shows no sign of letting up into the first part of August.
Firefighters have been attacking the Ferguson blaze near Yosemite National Park since July 13. The fire has consumed more than 56,659 acres and was 30 per cent contained on Saturday night. Much of the fire is burning in steep, rugged terrain with little to no access roads. 3,766 personnel that are currently engaged in the fire. 
The Governor of California, Gov. Edmund Brown, has declared a state of emergency in Lake, Mendocino and Napa Counties due to the number and ferocity of the fires currently plaguing these counties.