Mary Poppins Returns movie review: No Magic Only Ennui
The saving grace is a bright young actor named Lin-Manuel Miranda who plays a streetlight-operator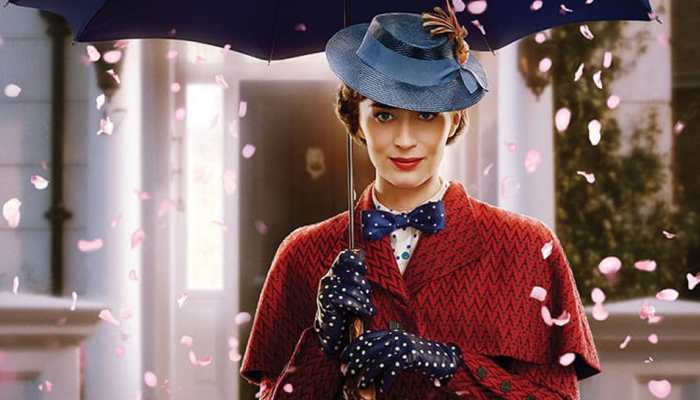 A more destitute classic would be hard to find. "Mary Poppins Returns" is a sluggish almost-charmless, and most shockingly, irrelevant remake of Robert Stevenson's 1964 classic about a nanny who 'rescues' a crisis-stricken family. Julie Andrews played a similar angel of mercy in two different films released in two successive years "Mary Poppins" and "The Sound Of Music" and qualified for eternal fame.
Emily Blunt's Mary Poppins is a... well, blunt and cold. I do hope she doesn't intend do a remake of "The Sound Of Music" anytime in the near future. This gifted actress so memorable as a delusional alcoholic in "The Girl On The Train" is here reduced to a starchy cold stiff-upperlipped self-important nanny who drops right from heaven into the Banks family. Parachute be damned.
Michael Banks (played with an endearing boyishness by Ben Whishaw)'s world has fallen apart after his wife's death. One of the film's earliest musical numbers has him reveling in his wife's memories. Grief-stricken and in a financial crisis, the last thing the Banks family needs is a supercilious bossy nanny who clearly thinks the sun rises and sets in her backroom.
This is a good moment to pause and wonder why? Why was Emily Blunt seen suitable to play Mary Poppins? The British accent? I see no other reason why she has taken on this iconic role of a do-gooder who changes a family's fortunes. She imbues the part with an arching up-tightness. Nearer home we had Rajesh Khanna doing Mary Poppins in Hrishikesh Mukherjee's Bawarchi. He didn't have Julie Andrew's British accent. But he conveyed more joie de vivre in one frame than Emily Blunt does in the entire film.
Ms Blunt's joyless performance is just a fraction of the problems that grip this misguided remake. "Mary Poppins Returns" is filled with episodes that are designed to exhilarate and edify the childhood sensations of adulthood. One after the other, they fall by the wayside leaving us with a sinking feeling.
After feeling a pall of boredom falling on me, I waited for Meryl Streep to show up. When she did I groaned in disbelief. As Topsy the wacked-out fix-it lady with red hair and clownish makeup, her song and dance 'Turning Turtle' is as major disaster waiting to happen in a film where nothing does.
The saving grace is a bright young actor named Lin-Manuel Miranda who plays a streetlight-operator (this is London during the Great Depression). His musical number in a sewage canal reminiscent of Ranbir Kapoor's easy grace in Sanjay Bhansali's Saawariya, is easily the high point of the sluggish dull over-righteous film where the characters are not just out of a clumsy fairytale but also a mockery of what was an indisputable classic almost 50 years ago.
"Mary Poppins Returns" does have its moments when its escapes the clutches of its self created stupor to break into the land of unmitigated joy. But these come in spurts that only accentuate the narrative's utter disassociation with the original drama and its refusal to let the sun in even the characters are pining to be happy.
Tragically, there is no magic in "Mary Poppins Returns", only ennui.
(IANS Ratings: 2 Stars)