NEW DELHI: Keeping up his attack on Prime Minister Narendra Modi and Finance Minister Arun Jaitley, Congress President Rahul Gandhi blamed the Central government for 'losses' that the Indian economy has faced. He also termed GDP in Modi government as 'Gross Divisive Politics'. 
He tweeted: "FM Jaitley's genius combines with Mr Modi's Gross Divisive Politics (GDP) to give India:
New Investments: 13 year (low)
Bank credit Growth: 63 year (low)
Job creation: 8 year (low)
Agriculture GVA growth: 1.7% (low)
Fiscal Deficit: 8 year (up)
Stalled Projects (up)."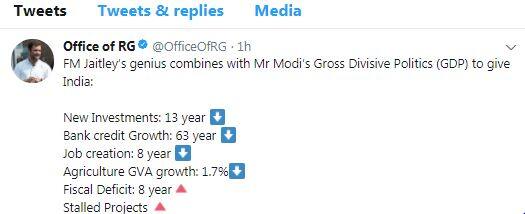 He had earlier hit out at the Finance Minister referring to him as "Dear Mr Jaitlie" accusing the government of lying.
His Jait-lie comment had come after the minister in Parliament said that PM Modi never questioned Manmohan Singh's integrity in connection with the allegations of a meeting with Pakistan envoy to strategise for Gujarat elections.
Rahul had then said: "thank you for reminding India that our PM never means what he says or says what he means." 
The Congress President had earlier also said accused Jaitley for the 'poor condition of the economy'. 
"Doctor Jaitley, note ban and GST have pushed the economy into the ICU. You say you are no less than anyone, but your medicine is not that effective," he had tweeted in October 2017.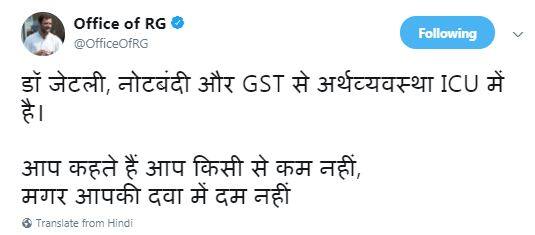 While campaigning for Congress in Gujarat elections, Rahul had repeatedly termed GST as the 'Gabbar Singh Tax,' alleging that it was aimed at grabbing people's hard-earned money.