Pilots association support Government in 'fight against terrorism'
The association's statement's come within 24 hours after Pakistan released footage of an IAF personnel in captivity.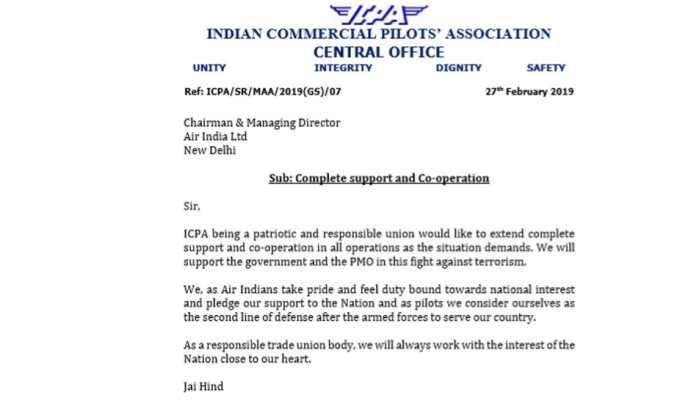 NEW DELHI: A day after Pakistan claimed to capture an Indian Air Force pilot, the Indian Commercial Pilots Association (ICPA) Thursday issue statement supporting India's fight against the government.
"ICPA being a patriotic and responsible union would like to extend complete support and co-operation in all operations as the situation demands. We will support the government and the PMO in this fight against terrorism.
"We, as Air Indians take pride and feel duty bound towards national interest and pledge our support to the Nation and as pilots we consider ourselves as the second line of defense after the armed forces to serve our country," the association said in a statement.
The association's statement's come within 24 hours after Pakistan released footage of an IAF personnel in captivity.
India later branded Pakistan`s videos as a "vulgar display" of an injured airman, saying they violated international humanitarian law and the Geneva convention.
"Pakistan would be well advised to ensure that no harm comes to the Indian defence personnel in its custody. India also expects his immediate and safe return," it said in a statement.
India said Pakistan has committed an "unprovoked act of aggression" by targeting Indian military posts with its air force and sought immediate and safe return of an Indian Air Force (IAF) pilot in its custody.
After an aerial engagement in the J&K`s Nowshera sector on Wednesday, Pakistan claimed that it has captured one Indian pilot.
India has issued a demarche to Pakistan, objecting to the "vulgar display" of the injured IAF pilot in violation of all norms and said Islamabad must ensure that no harm is done to the Indian defence personnel in its custody.
The Ministry of External Affairs (MEA) also summoned Pakistan`s acting High Commissioner Syed Haider Shah and lodged a strong protest at "the unprovoked act of aggression by Pakistan against India earlier today, including violation of the Indian air space by Pakistan Air Force (PAF) and targeting of Indian military posts."
It also gave Pakistan a dossier with specific details of Jaish-e-Mohammed`s complicity in the February 14 Pulwama terror attack, which killed 40 CRPF personnel.
Pakistan Prime Minister Imran Khan has been asking India to provide "actionable intelligence" to take action against those involved in the Pulwama attack. JeM, based in Pakistan, had claimed responsibility for the attack.
The MEA said in a statement it was clearly conveyed to Pakistan that India reserves the right to take firm and decisive action to protect its national security, sovereignty and territorial integrity against any act of aggression or cross-border terrorism.
"Regret was expressed at the continuing denial by Pakistan`s political and military leadership at the presence of terrorist infrastructure in territories under its control. A dossier was handed over to Pakistan side with specific details of JeM complicity in the Pulwama attack and the presence of JeM terror camps and its leadership in Pakistan," the statement said.