New Delhi: Sensex tanked over 230 points while Nifty came below 10,700 in closing trade due to weakness in the global markets along with persistent rise in crude oil prices.
The indices had, however, opened on a positive note. The BSE Sensex fell 238.76 points to close at 35,149.12 while the NSE Nifty dropped 58.40 points to 10,682.70.
The Sensex touched a high of 35510.01 points and a low of 35087.82 points in intra-day trade.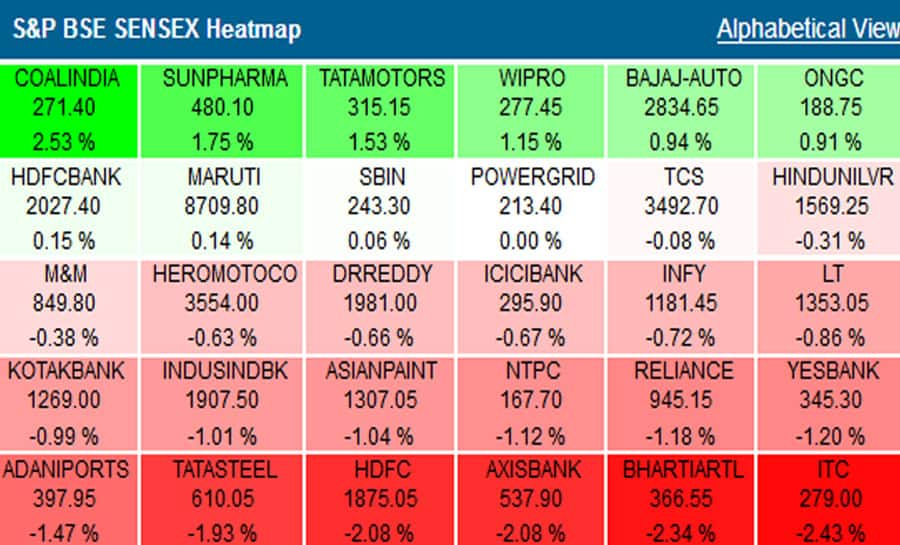 Shares of Kotak Bank, IndusInd Bank, Asian Paint, NTPC, Reliance, Yes Bank, Adani Ports, Tata Steel, HDFC, Axis Bank, Bharti Airtel and ITC led the fall by dropping upto 2.43 percent.
This is the benchmark's lowest closing since May 4 when it had closed at 34,915.38.
The gauge had lost 168.83 points in the previous two sessions.
The NSE 50-share Nifty also lost 58.40 points, or 0.54 percent, to 10,682.70, after shuttling between 10,777.25 and 10,664.50.
Foreign portfolio investors (FPIs) net sold shares worth Rs 699.22 crore, while domestic institutional investors (DIIs) bought shares worth Rs 229.06 crore yesterday, as per provisional data.
In the Asian region, Shanghai Conmposite Index fell 0.48 percent, while Hong Kong's Hang Seng slipped 0.54 percent. Japan's Nikkei, however, rose 0.53 percent.
In the euro zone, stock markets in Germany and France were up in early trade and rose up to 0.47 percent. London's FTSE too gained 0.11 percent.
With PTI Inputs