New Delhi: India's military prowess and the country's diverse cultural heritage were on display at the 67th Republic Day parade on the magnificent Rajpath boulevard here on Tuesday.
Here are the live updates:
Republic Day celebrations conclude at Rajpath with national anthem.
Indian Air Force presents thundering aerobatic professional skills with Sukhoi 30, Mig 29, Jaguar combat planes, C-130J Super Hercules transport aircraft and C-17 Globemaster.
Motorcycle display by the Army Daredevils.
Daredevils of the #CorpsofSignals #RepublicDay pic.twitter.com/jBx9QpuTUS

— PIB India (@PIB_India) January 26, 2016
Gallantry award winners arrive seen at Rajpath. 
IT Ministry tableau showcases PM Modi's ambitious project 'Digital India'.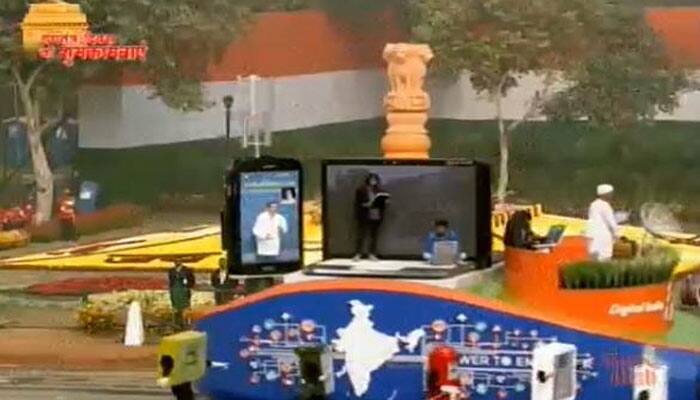 The tableau of Election Commission of India shows the inclusive and ethical participation for a stronger democracy.
The tableau of Ministry of Drinking Water and Sanitation is based on the theme of 'Swachh Bharat'.
Tableau of Ministry of Social Justice depicts the 125th birth anniversary of Dr BR Ambedkar.
Sikkim's tableau depicts celebration of Buddha Jayanti, which is popularly called Saga Dawa.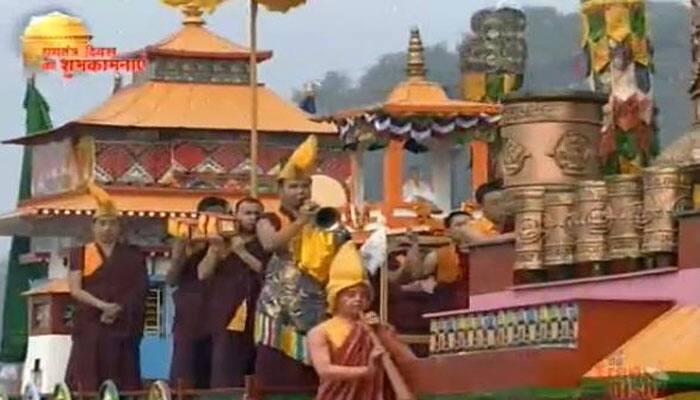 Tableaus of Sikkim, Gujarat, Tripura, West Bengal, Chandigarh, Rajasthan, Uttarakhand, Bihar, Karnataka, Assam, Tamil Nadu, Uttar Pradesh, Jammu and Kashmir pass through Rajpath.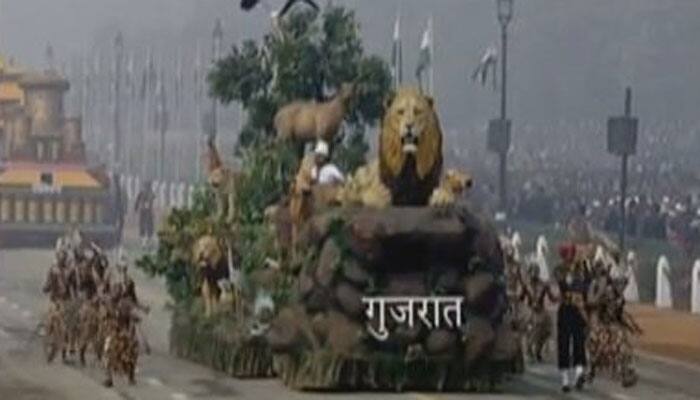 Tableau from Goa performs 'Jagor' (the traditional folk dance-drama)
Women's division of the CRPF at Rajpath. 
Indian Army's dog squad march down Rajpath during the Republic Day parade in New Delhi.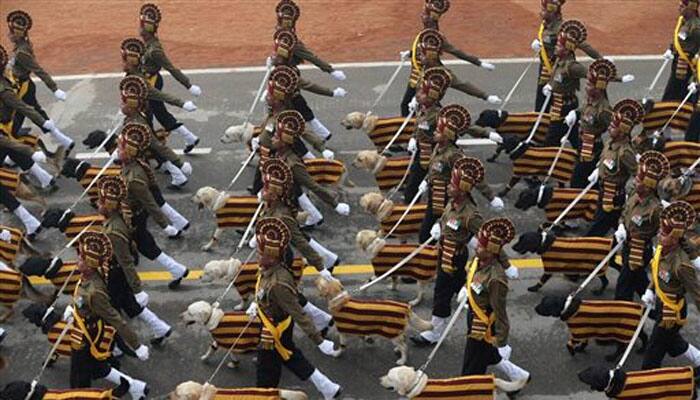 DRDO showcases its equipment columns. 
BSF's colourful camel regiment passes through Rajpath. Deputy Commandant Kuldeep J Choudhary is leading the Contingent.
Tableau's of Indian Air Force and Indian Navy at the 67th Republic Day celebrations.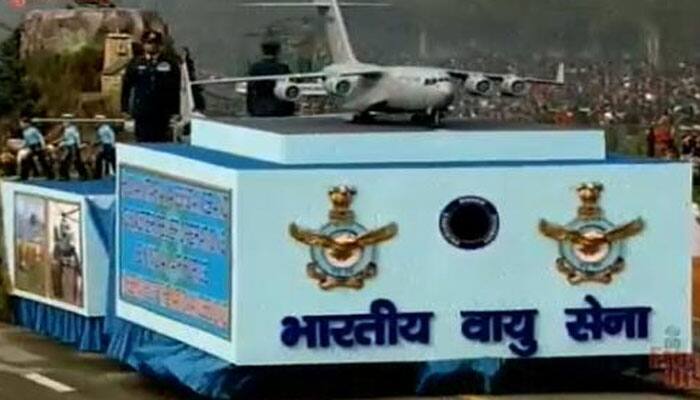 The Parachute regiment marches past the saluting base.
The Akash Weapon systems dispalyed at  Republic Day Parade.
Dhruv helicopters fly over Rajpath.
Tank T-90 Bhishma and Brahmos missile go past the saluting base.
The French military band marches down Rajpath.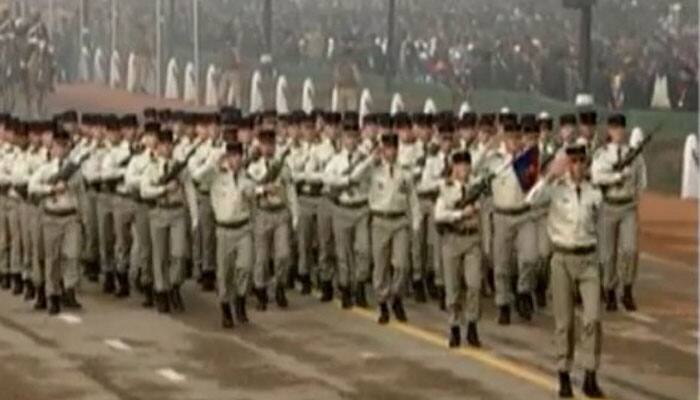 Parade begins; proud winners of highest gallantry awards follow the Parade Commander at the majestic Rajpath
Four Mi-17 V5 helicopters shower flower petals to greet Republic Day Parade spectators.
President confers AshokChakra to Lance Naik Mohan Goswami who laid down his life fighting militants in J&K.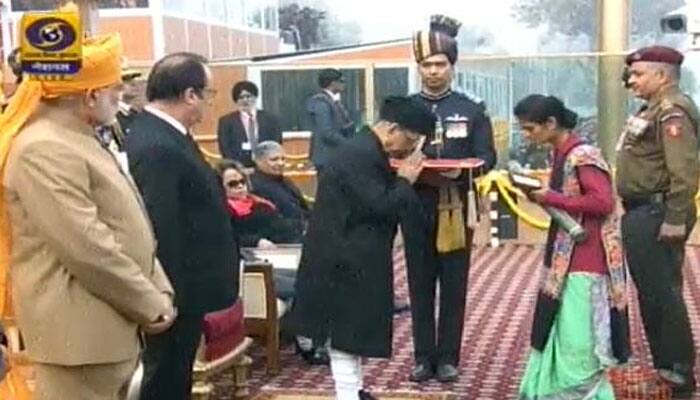 President Pranab Mukherjee hoists National Flag at Rajpath; National Anthem played.
President Pranab Mukherjee and his French counterpart Francois Hollande arrive at Rajpath to attend the 67th Republic Day celebrations.
Vice President Hamid Ansari arrives at Rajpath, is received by PM Modi.
The Prime Minister reaches Rajpath, is greeted by Home Minister Rajnath Singh and MoS VK Singh.
PM Narendra Modi reaches India Gate, pays tribute to martyrs, lays wreath at the 'Amar Jawan Jyoti'.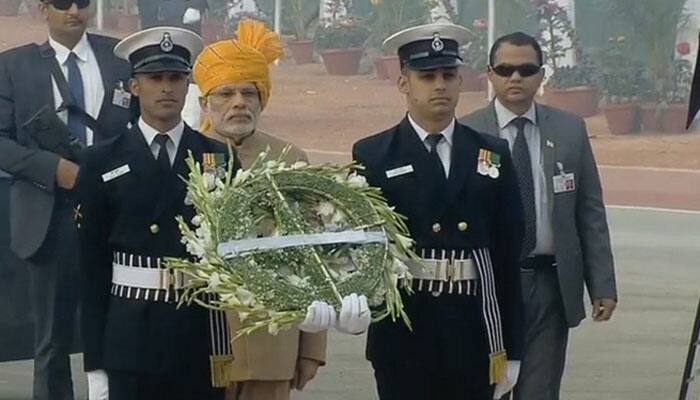 President Pranab Mukherjee and President Francois Hollande leave Rashtrapati Bhavan. 
Madhya Pradesh Chief Minister Shivraj Singh Chouhan and Rajasthan CM Vasundhara Raje extends heartiest greetings countrymen on the occasion of Republic Day. 
Prime Minister Narendra Modi greets the nation on Republic Day and says he salutes "all great personalities who framed our constitution".
Tributes to all great personalities who framed our Constitution. I salute Dr. Ambedkar for his efforts as Chairman of Drafting Committee.

— Narendra Modi (@narendramodi) January 26, 2016
A multi-layer security blanket has been thrown around the national capital after inputs were received about the presence of key members of several terror outfits in Delhi.
In the national capital, as many as 71 high-rise buildings in the vicinity of Rajpath will be shut down either partially or completely in view of the Republic Day parade.
French President Francois Hollande was the Chief Guest at the Republic Day parade.
President Pranab Mukherjee on Monday urged Indians to shun "violence, intolerance and unreason" and said that decision making must be based on cooperation and consensus-building.
In his annual Republic Day eve address, the president also said that while rebellion was also a virtue of democracy, "let us also applaud what our democracy has achieved" since independence in 1947.