Jammu: Prime Minister Narendra Modi, who arrived in Jammu on a day-long visit on Friday, paid homage to late Congress leader and former Jammu and Kashmir finance minister Girdhari Lal Dogra.
Addressing a gathering here at the birth centenary of Dogra, who was Finance Minister Arun Jaitley's father-in-law, Modi rejected the notion of political untouchability and asserted that India's heritage cannot be divided on ideological lines.
He said all political leaders of the past deserve our respect because they worked for the betterment of our nation.
Paying tribute to the former J&K finance minister, the Prime Minister said that he came into public life with an inspiration of patriotism. He said the very fact that Dogra presented as many as 26 budgets, indicated his acceptability in politics; and expertise and dedication to the task at hand.
He also noted that Dogra also groomed many political leaders.
Referring to the exhibition on Dogra that he had inaugurated before the function, the Prime Minister said it was remarkable that none of his family members was visible in any of the photographs. He said this is a message for leaders in public life today. "It is a difficult task. It is not easy. Everybody wants to do something for his relatives," he said.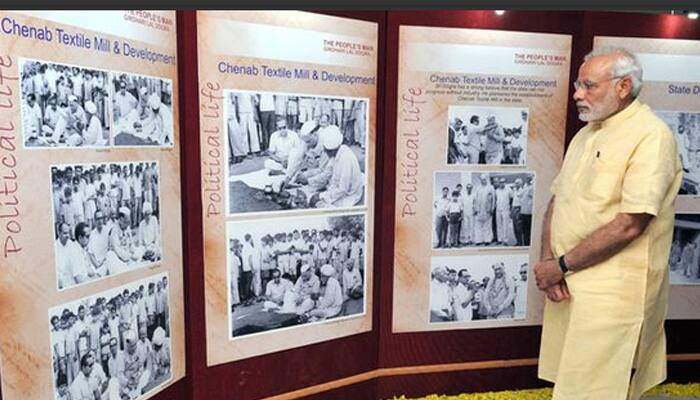 In a lighter vein, Modi, who attended the main function inside the Zorawar Singh auditorium of Jammu University around which a thick blanket of security has been thrown, said the Congress leader must have had a great understanding of human beings and "that is why he chose a son-in-law like Arun Jaitley".
He said that despite being the son-in-law of the late Congress leader, Jaitley held on to his own political beliefs and never used his father-in-law's clout.
"Otherwise we all know what embarrassment sons-in-law have become for their in-laws nowadays," said Modi, taking a dig at Congress president Sonia Gandhi's son-in-law Robert Vadra. He didn't name Robert Vadra.
The function was attended by Jaitley, Jammu and Kashmir Governor NN Vohra, Chief Minister Mufti Sayeed, Leader of Opposition in Rajya Sabha Ghulam Nabi and senior Congress leader Karan Singh.
"Today in politics, there is a need to ensure that our heritage is not divided. This is a matter of concern," the PM said, amid a tussle among political parties to claim the legacy of various national leaders.
His remarks came after Azad said Dogra was "24 carot Congressman", who never "compromised with regionalism, casteism and communalism".
Modi said public life cannot run by judging a person on the basis of his political party, ideology or leadership.
"There should not political untouchability. Everybody in public life works with certain ideology but he lives and dies for the nation. We should be proud of them and have equal regard for anybody who has worked and died for the nation, irrespective of their political ideologies and affiliations.
While disapproving political untouchability, Modi recalled that soon after Atal Bihari Vajpayee took over as Prime Minister, a senior Communist leader had died in Kerala.
Vajpayee told LK Advani to attend his last rites even though the Communist leader had steadfastly opposed BJP, the Prime Minister said.
Highlighting that such contradictions are the beauty of the democracy, he quipped, "we all are sitting here (including Azad), but just wait to see the 'muqabla' (contest) we will have some days".
He was clearly referring to the Monsoon session of Parliament beginning July 21 during which the Opposition is expected to corner the government over various issues, including land bill.
The Prime Minister extended his greetings for the upcoming festival of Eid.
Arun Jaitley, who delivered the welcome address, called Dogra a man of high integrity.
Governor of Jammu and Kashmir NN Vohra, Chief Minister of Jammu and Kashmir Mufti Mohammad Sayeed, Union Ministers Arun Jaitley and Dr Jitendra Singh, and senior leaders Shri Ghulam Nabi Azad and Dr Karan Singh were present on the occasion.
All eyes were on this visit as the Prime Minister was expected to announce a Rs 70,000 crore development package for Jammu and Kashmir.
However, Modi left for New Delhi without making any announcement.
The special plane carrying the Prime Minister had landed at the technical area of Jammu airport around 11 am.
Governor NN Vohra, CM Sayeed and senior Cabinet ministers received Modi at the airport.
Security was beefed up in and around the state's winter capital, against the backdrop of several infiltration attempts from across the border. Major traffic restrictions were imposed across Jammu city.
The function venue was taken over by the Special Protection Group looking after the security of the Prime Minister. The SPG had carried out sensitisation of General Zorawar Singh auditorium where the PM addressed the gathering.
A police officer said that to deal with any contingency multiple quick reaction teams (QRTs) were deployed all along the route of the Prime Minister's visit.
The Pakistani side has been continuously resorting to ceasefire violations as the Army foiled an infiltration attempt in Poonch while another bid was foiled by the BSF in RS Pura sector.
(With Agency inputs)