Raipur: While both the Bharatiya Janata Party (BJP) and the Congress are confident of getting a majority, early trends in Chhattisgarh Assembly election results suggest that the latter has taken a lead while the former stands in the second position.
READ Assembly election results 2018 Live
READ Live Streaming of Chhattisgarh election results 2018 on Zee News
As per the trends available at 6 pm, Congress is leading on 65 seats, BJP on 16 seats while JCC and Others on 8 and 1 seats respectively.
Congress has gained an absolute majority in Chhattisgarh by sweeping 70 seats while BJP lags behind with just 10 seats in their favour.
The latest trends at 2.45 pm say that Congress is ahead on 66 seats, BJP on 15 seats while JCC is leading on 8 seats and Others on 1 seat.
Chief Minister Raman Singh is leading by 1375 votes from Rajnandgaon seat. The Chief Minister is contesting against Congress's Karuna Shukla.
It is 12.45 pm now and the latest trends show that the Congress in Chhattisgarh is leading on 59 seats while BJP, JCC and Others are ahead on 21, 8, 2 seats respectively. 
Trends at 11 am says that Congress is leading on 57 seats, BJP on 25 seats and JCC on 7 seats.
The latest trends at around 10 am suggest that Congress is leading in 54 seats while BJP is ahead in 26 seats. JCC, on the other hand, is leading in 5 seats and Others ahead in 1 seat.
Chief Minister Raman Singh is trailing from Rajnandgaon while Congress's Karuna Shukla has taken the lead. The Congress party is about to cross the half-way mark, overtaking BJP and JCC.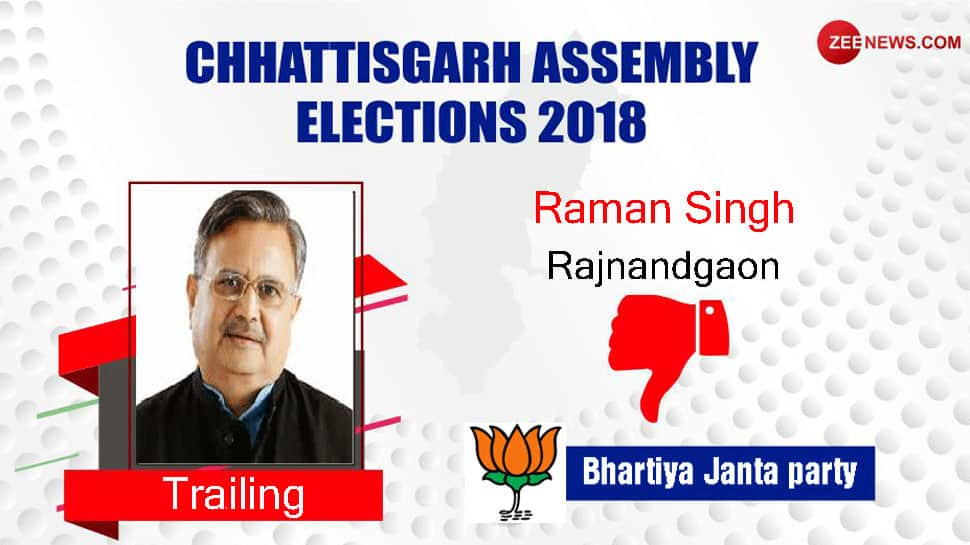 As per the latest trends arrived in at 9 am, Congress, which is leading in 37 setas, has overtaken BJP which has taken lead in 28 seats. While JCC+ is leading in 3 seats, others take lead in 1 seat.
Counting of votes for Chhattisgarh Assembly elections is underway. Tight security arrangements have been made at the counting centres in all 27 districts, particularly the Naxal-affected ones, where voting was held in two phases on November 12 and 20 to elect a new 90-member Assembly.
The state is witnessing a three-way contest with the ruling BJP trying to retain power while the principal opposition Congress and an alliance of Ajit Jogi's JCC and Mayawati's BSP are eyeing power.
The Raman Singh-led BJP government in Chhattisgarh, which has been in power since 2013, is hoping for a fourth term. The party has left no stone unturned in making an attempt to retain power in the state, but has, at the same time, faced a stiff opposition from the Congress party. 
While the BJP once again relied on the credibility of Raman Singh's leadership, projecting him as its chief ministerial candidate, the Congress declared that a decision of the chief ministerial candidate would be taken after the results on December 11.