Arjun Kapoor-Kriti Sanon's 'Panipat' tweet review: Check first reactions
Arjun Kapoor-Kriti Sanon starrer 'Panipat' has hit the screens today.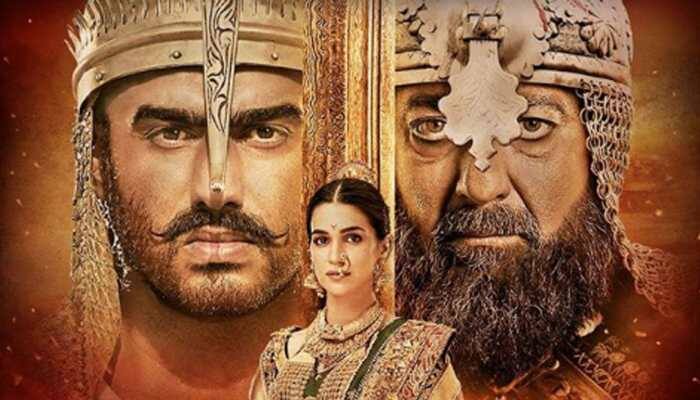 New Delhi: B-Towners Arjun Kapoor and Kriti Sanon joined forces for their first-ever period drama 'Panipat' helmed by Ashutosh Gowariker. The movie tells the tale of the lost battle of Panipat. Classic actor Sanjay Dutt plays Ahmad Shah Abdali in the movie.
The trailer of 'Panipat' presented the valour and pride of a Maratha warrior fighting for his countrymen against an enemy. In Panipat, Arjun Kapoor plays Sadashiv Rao Bhau and Kriti Sanon as Parvati Bai respectively.
The film has opened in theatres today and Divyanshi Sharma of ZeeNews.com is watching 'Panipat' currently. Check out her first reactions here:
#Panipat ends on an intense note. Stay tuned for full review... #PanipatReview — Divyanshi Sharma (@ShDivyanshi) December 6, 2019
#ArjunKapoor wields the sword like a pro in #Panipat #PanipatReview — Divyanshi Sharma (@ShDivyanshi) December 6, 2019
Sound of guns, canons, horses and elephants fill the theatre. #Panipat — Divyanshi Sharma (@ShDivyanshi) December 6, 2019
The battle begins in #Panipat . Audience waits with baited breath in theatres. Wonderful how Cinema has the power to make one forget for a moment that what's on-screen is a reconstruction of events of the past. #PanipatReview — Divyanshi Sharma (@ShDivyanshi) December 6, 2019
'Hindustan Hamesha Pehele Hi Rahega' - Sadashiv Rao Bhau in #Panipat #PanipatReview — Divyanshi Sharma (@ShDivyanshi) December 6, 2019
History has ample stories about the valour of #Maratha warriors. The battle of #Panipat is one of them. — Divyanshi Sharma (@ShDivyanshi) December 6, 2019
Hum Abdali ka saamna vahi karenge, #Panipat mei- Arjun Kapoor aka Sadashiv Rao Bhau. #PanipatReview #arjunkapoor #kritisanon — Divyanshi Sharma (@ShDivyanshi) December 6, 2019
#MannMeinShiva song provides a ray of hope in the plot and has spellbinding choreography. — Divyanshi Sharma (@ShDivyanshi) December 6, 2019
#Panipat has a great buildup. #PanipatReview — Divyanshi Sharma (@ShDivyanshi) December 6, 2019
#ZeenatAman is convincing as Sakina Begum in #Panipat — Divyanshi Sharma (@ShDivyanshi) December 6, 2019
Strategy, patience and management is involved in every #War #PanipatReview — Divyanshi Sharma (@ShDivyanshi) December 6, 2019
#Panipat resumes after interval. Weather conditions put the Maratha Warrior in peril. #PanipatReview — Divyanshi Sharma (@ShDivyanshi) December 6, 2019
The betrayal of Shuja-ud-Daula has been discovered. #PanipatReview #Panipat — Divyanshi Sharma (@ShDivyanshi) December 6, 2019
Interval after a long first half. Stay tuned to know more about #Panipat — Divyanshi Sharma (@ShDivyanshi) December 6, 2019
#Panipat has some clever dialogues. #PanipatReview — Divyanshi Sharma (@ShDivyanshi) December 6, 2019
King of Awadh had an important role to play in the battle of #Panipat . — Divyanshi Sharma (@ShDivyanshi) December 6, 2019
#Panipat has its moments of aesthetic marvels! #PanipatReview — Divyanshi Sharma (@ShDivyanshi) December 6, 2019
The plot turns intense in #Panipat #PanipatReview

— Divyanshi Sharma (@ShDivyanshi) December 6, 2019
Time for a royal wedding in #Panipat #PanipatReview @kritisanon and #arjunkapoor make for a decent on-screen pair. — Divyanshi Sharma (@ShDivyanshi) December 6, 2019
#ArjunKapoor looks spectacular in song #mardmaratha #Panipat #PanipatReview — Divyanshi Sharma (@ShDivyanshi) December 6, 2019
#ArjunKapoor looks spectacular in song #mardmaratha #Panipat #PanipatReview — Divyanshi Sharma (@ShDivyanshi) December 6, 2019
Costumes and sets are the life of every historical film. #PanipatReview #Panipat succeeds in creating that magic.

— Divyanshi Sharma (@ShDivyanshi) December 6, 2019
#Panipat has been helmed by @AshGowariker and is based on the third battle of Panipat fought in 1761. — Divyanshi Sharma (@ShDivyanshi) December 6, 2019
In theatre to review #panipat — Divyanshi Sharma (@ShDivyanshi) December 6, 2019