Colors exhibit the real essence of life – and so does colored eyes. While some are naturally blessed with such peepers – others use colored contact lenses to mesmerize through their eyes. But, have you ever wondered which eye shadow will compliment your eye-color/lenses the best?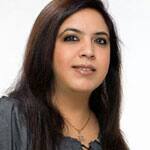 To sort your dilemma out - Ms. Gunjan gGaur, permanent makeup expert and executive director of alps beauty clinics, shares some fantastic color-contrasting tips for people with colored lenses and eyes.
True blue eyes: If you are endowed with naturally blue eyes or use lenses that are blue in hue – then liven up your peepers using bright shades. Shades like turquoise, fuchsia, silver, will best compliment your eyes by intensifying it to the utmost.
Hazel perfect eyes: Though, these almost appear greenish – hazel eyes are best matched with hues like dark green, khaki, brown and plum. Some other must-be-tried shades are gold, lime green and bright purple to bring-out the depth of such peepers.
Intense brown eyes:As brown eyes adds to one's persona – to infuse some more class to them use eye shadow in pinks, purples, plum browns, oranges, peaches and dark blues and emerge as a goddess.
Glorified green eyes: All hues of brown compliment the women with green eyes. Therefore, feel free to use colors ranging from beige to deep chocolate brown. Also, shades like; red, pink and purple can also be experimented upon brown eyes.
Sultry black eyes: Although, black eyes endow a warm welcome to all colors of eye-shadows – all you "black-eyed-peas" may glorify your avatar by adding a dash of metallic touch to it. Opt for gold, copper, bronze, silver hues to accomplish this!
So, the next time you are up for any party eye-makeup – be sure to be color-wise!