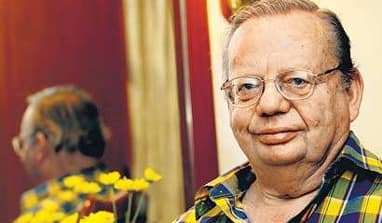 A septuagenarian with a memory as clear as a crystal, straddling several spheres of literature and a brilliant weaver of tales - meet Ruskin Bond – the name that perhaps every child in the country who has ever studied in a school – knows of and adores. His works are in themselves literary masterpieces, and the numerous laurels that Ruskin Bond has been decorated with are testimony in themselves. Away from the gaze of the world and publicity-shy, this Bond's words have been instrumental in making many fall head over heels in love with books in general and his works in particular. Ananya Bhattacharya of Zeenews.com caught up with this extraordinarily witty and extremely charming writer. Snippets from the conversation:
Hills are a recurring background in most of your works. Is this solely because of the fact that you've grown up and lived in hills?
I've spent a lot of my childhood in Dehradun and I was in school in Shimla, and then of course, I now live in Mussoorie. I've spent about two-thirds of my life in and around hills. A lot of my writing is mostly autobiographical, personal and mostly springs from the background, that of the hills.
Which one award – out of all that you have received – would you call the most inspiring?
It's nice to have awards from time to time. There was a time when I had to make a living from my writing, and it wasn't always easy. I value awards a lot and more so if there is a little cash with them! (laughs) A few days back, I received a Lifetime Achievement award from the Delhi Government and it was very useful to me. One award that I have always valued the most is the John Llewellyn Rhys prize that I'd received way back, when I was about 18/19, for 'The Room on the Roof'. The 50 pounds' money that came along with it helped put me on the way to a literary career, to a lifetime of writing.
One writer whose works you are most stimulated by.
There are so many writers who have inspired me over the years. My likings have varied a good deal over the years. As a schoolboy, I loved Charles Dickens. His 'David Copperfield' has had the strongest influence on me – I looked up to David Copperfield as a role model.
Apart from that, several short story writers – Anton Chekov to William Somerset Maugham – have all been very important to me. I've had many different influences on the way since reading has been an integral part of my life all along.
As far as the contemporary literary scene of India is concerned, how do you find our authors faring?
So many young writers are coming to the fore these days and many of them are so successful. This is something that was very rare in the 1950s, 60s, 70s where you had just the odd one faring well. Writers back then generally had to get their works published abroad. Today, take up any bestsellers' list, you'll find so many of our young authors doing so well. It is a very healthy sign, deeply encouraging for booklovers.
Several of your works have been represented on/adapted for celluloid. Which one book/short story have you always wanted to be made into a film?
The works that I'd like filmed are probably 'The Room on the Roof' and 'Vagrants of the Valley'. The ones that were filmed have done well on a whole. I grew up on visual writing; I grew up living on movies. Before I began writing something, I would visualise it. Films and books have been intertwined as far as my growing up is concerned.
Apart from the films that have got wide releases, there are several which never got distributors. There is a tiger story, a Rusty story, a ghost story – for example – which never got shown.
How do you think your – let's call it eventful – childhood has influenced your style of writing?
Very much so. Even now, my childhood and the people I've known along the way are all very vivid to me. The older you get, the more experience you have to fall back on. I fortunately have a good memory and that helps a lot in the way I write.
What is your favourite literary genre?
I enjoy reading all kinds of novels – crime novels, essays, biographies and so on. When it comes to writing, what I enjoy the most is to write about anything that I feel like. What I see through my window, sometimes I just gaze into space and express myself in words. It is not necessarily for the reading public, but for my own in general. See, there are two kinds of writing – one where the writing is for the reading public, and the other where the author is merely expressing himself. The latter, if it makes a little money too on the way – comes across as best of both the worlds.
You've appeared in a cameo in Vishal Bhardwaj's '7 Khoon Maaf'. Have you ever had the desire to act?
I must have been pretty bad in it – nobody offered me a role after that, you see! (bursts out laughing). In '7 Khoon Maaf', I had two scenes, and each of them took about seven re-takes before it could be finalised – so you understand how good an actor I am! However, back during my schooldays, I'd joined a small theatrical group in England and I was good with the drunken roles there – but then they decided to let me go because I had a strong Indian accent.
You have always been interested in the paranormal. Is there a particular incident that drove you to be so inclined towards the territory?
Well... I don't believe in ghosts but keep seeing them from time to time! laughs The books of MR James, Elgin and James, have always appealed to me. I'm not really an expert on ghost stories, but occasionally write the odd ones!
What books can we expect from you in the near future?
Certainly a memoir - something autobiographical - maybe a few ghost stories. I'm interested in vampire cats – cats which suck your blood - maybe a novel too is in the offing, set in a fictional hill-station, but that's going very slowly. And I'm also working on a few personal essays.
Children's literature is one area where we've seen a lot of Ruskin Bond. Do you find yourself attached to children in general?
I get on well with children – as long as they are not in large numbers. They sort of get to understand that I'm a complete softy. I generally have a good rapport with children.
Given the current day, what do you think beginners should inculcate in themselves while venturing into the domain of writing?
People should inculcate the habit of reading first. Once they have cultivated a certain fluency in grammar and language, only then they should set out to write. Beginners should concentrate on the language itself – the fluency, style, grammar – and look at the genre they are good in. Don't be too ambitious in the beginning; you might end up being disappointed later on. There's a lot of talent in everyone and one should learn their craft first.