New Delhi: The Karnataka government on Monday shunted out Deputy Inspector General (DIG) of prisons, D Roopa Moudgil who had accused AIADMK general secretary Sasikala of paying Rs 2 crore bribe to ADGP Prisons, H N Sathyanarayana Rao in exchange of undue favours. As per the reports, Roopa has been transferred to traffic department as commissioner for traffic and road safety. 
An official order said Deputy Inspector General Roopa "is transferred with immediate effect and posted until further orders" as the Inspector General of Police and Commissioner for Traffic and Road Safety. Roopa now takes the place of Indian Police Service (IPS) officer A.S.N. Murthy, the order reads. Apart from DIG Roopa, the Karnataka government also transferred four other senior officers including Director General of Prisons (DGP) Satyanarayana Rao who was accused of taking the bribe.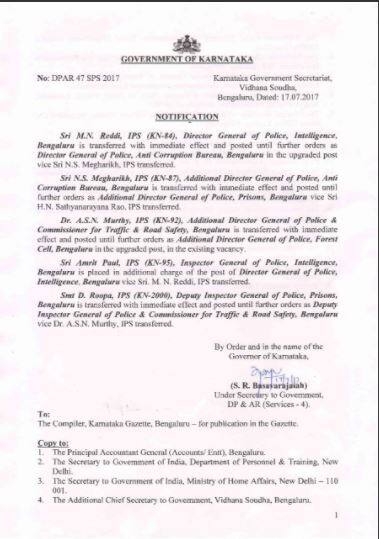 Reacting to the sudden transfer, Former Karnataka CM HD Kumaraswamy said,"Surprised. I think this govt (Karnataka govt) wants to protect illegal activities." Meanwhile DIG Roopa, while talking to leading channel said that she has not received any transfer order as yet. Whereas Karnataka Chief Minister Siddaramaiah while talking to media asserted that it is an administrative process and it is not necessary to disclose everything to the media. 
The transfer comes days after Karnataka government order probe into DIG Roopa Moudgil's report in which she had disclosed that 59-year-old Sasikala was getting royal treatment in the women's cell where she has been lodged since February 15 to serve her sentence. She had also claimed that the AIADMK chief gets special food daily, cooked by special chefs in a special kitchen near the women's cell. 
She had also revealed that special treatment also being extended to Abdul Karim Telgi, convicted in fake stamp paper scam. "3-4 convicted prisoners has been allotted to Abdul Telgi for body massage," D Roopa had claimed.