26 March 2020, 22:03 PM
Delhi has 39 confirmed COVID19 positive cases so far, says Delhi government's Health Department. Four fresh cases in the last 24 hours.
26 March 2020, 21:17 PM
Indian Oil's Director (Marketing) Gurmeet Singh assures the uninterrupted supply of petrol, diesel and LPG pan India. "There is no shortage. All our supply locations are operating as usual. At no time will there be any shortfall in the availability of these essential petroleum products. Please do not hoard or make panic bookings for LPG cylinders," he said.
26 March 2020, 21:10 PM
Death of 65-year-old female patient is confirmed at Mumbai's Kasturba Hospital in the late evening on March 26. She was known case of Diabetes and Hypertension and was admitted on March 23 for breathlessness. She was tested positive for COVID-19.
26 March 2020, 21:06 PM
India as of 9 pm (IST) on Wednesday recorded a total of 694 positive cases across the country and the government has confirmed 16 death. Of the 694 cases, 44 people has also been cured and one person has also migrated.
26 March 2020, 20:17 PM
Three 24x7 helpline numbers have been brought into immediate effect  with an aim to provide support and assistance to migrant workers of Bihar in various states of the country. These three numbers are--011-23792009, 011-23014326, 011-23013884.
26 March 2020, 20:00 PM
There are many wholesale suppliers of medical consumables, equipment and medicines in Bhagirath Palace. These had been closed due to lockdown. These will open from tomorrow (Friday): Delhi CM Arvind Kejriwal
 
26 March 2020, 19:11 PM
International flights to remain suspended till 18:30 hrs, of April 14th due to coronavirus COVID-19.
26 March 2020, 18:40 PM
West Bengal Transport Department to start emergency bus services for the personnel on emergency duty, in six different locations across Kolkata, from 8 am to 8 pm.
26 March 2020, 18:26 PM
Two more positive cases in Srinagar--7-year-old and 8-months-old siblings. They are the grandchildren of a confirmed case from Srinagar with travel history to Saudi Arabia who had tested positive on March 24. Total number of active positive cases till now reaches 11.
26 March 2020, 18:01 PM
As of 6 pm (IST), the worldwide death toll increased to 22,030 due to coronavirus pandemic. The number of COVID-19 positive cases has reached 487,648.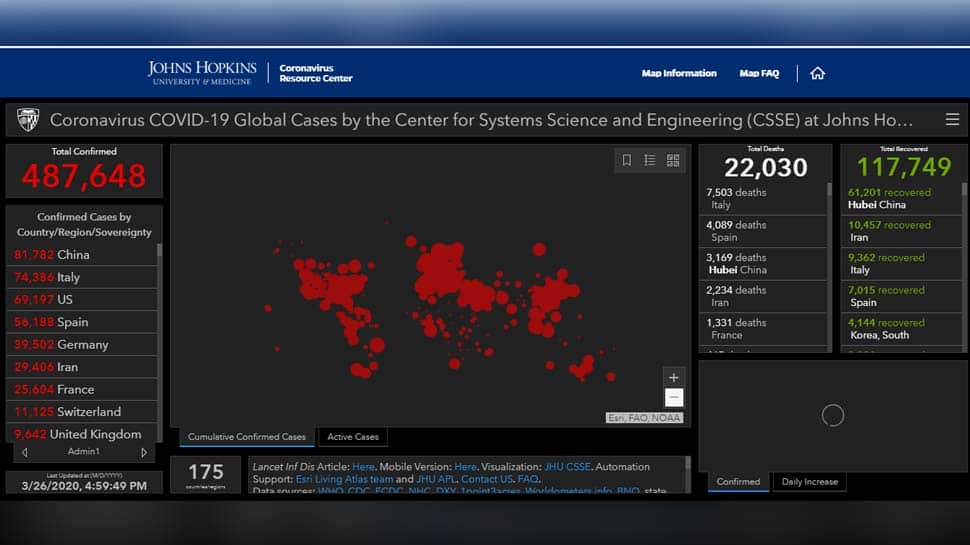 26 March 2020, 17:33 PM
Zomato, Flipkart, Amazon, Swiggy, Bigbasket and Big Bazaar are some of the online service providers that have been given the permit to operate during the lockdown.
26 March 2020, 17:29 PM
Delhi Police also issued guidelines to all Deputy Commissioners of Police, asking them to ensure hassle free movement of personnel and vehicles of e-retailers delivering essential services & goods.
26 March 2020, 17:28 PM
Delhi Police has withdrawn its previous order and allowed vehicles of online retailers transporting essential services to operate.
26 March 2020, 16:06 PM
Two coronavirus patients, who recovered in Uttar Pradesh's Greater Noida, were discharged on Thursday.
26 March 2020, 16:00 PM
DM GB Nagar issued an order saying, "For group housing societies of upto 25,000 sqm, 10 maintenance staff will be allowed and 20 will be allowed for societies of upto 50,000 sqm to travel without any pass from the administration. To commute in the city, these staff will need an ID card and a letter from the RWA/AOA on their letterhead with the person's contact details & society's name. Maintenance staff to include one facility manager, electrician, plumber, lift technician, AC/TV/cable & sanitation staff."
26 March 2020, 15:39 PM
Karnataka on Thursday reported a second death in the state due to coronavirus and the total number of positive cases stand at 55. Four new cases were detected since March 25, 5 pm to March 26, 8 am.
A 35-year-old male, a resident of Mysuru, had no present history of travel. However, he was with the quality assurance section of a pharmaceutical company, Nanjangud and has been in contact with many health care professionals. The case is isolated at a designated hospital in Mysuru. The detailed investigation is under process. 7 Primary contacts have been traced and are under house quarantine. 
A 70-year-old female, resident of Chikkaballapura District had a history of travel to Mecca, Saudi Arabia and arrived to India on March 14. The patient died on March 24 at a designated hospital in Bengaluru. 
26 March 2020, 15:22 PM
One male patient 42 yrs from Nagpur tests positive for COVID-19, total 125 cases in state: Maharashtra govt
26 March 2020, 14:46 PM
Union Defence Minister Rajnath Singh on Thursday held a review meeting with the Chief of Defence Staff General Bipin Rawat, Secretary Defence Ajay Kumar and chiefs of armed forces to seek what more can be done in the fight against COVID-19. Moreover it is also decided that Armed force not only establish more quarantine centers but also help the civil administration in establishment of field hospitals and provide other resources like nursing staff, doctors, medicines, equipment etc wherever need arises.
26 March 2020, 14:41 PM
Man marking for buyers at Indradhanu Market in Bhubaneswar, Odisha. Social distancing is one of the measures to curb the spread of coronavirus.

26 March 2020, 13:58 PM
Govt to front-load Rs 2,000 paid to farmers in first week of April under existing PM Kishan Yojana to benefit 8.69 cr farmers: FM Sitharaman
26 March 2020, 13:54 PM
FM Sitharaman announced wage increase in MGNREGA: 5 crore families will be benefited, with an increase of Rs 2000 per worker on average as additional income.
26 March 2020, 13:51 PM
20 cr women Jan Dhan Account holders to get Rs 500 per month for next three months to help them run their households: FM Sitharaman
26 March 2020, 13:50 PM
As many as 8.69 crore farmers to be immediately benefited through direct cash transfers. Installment of Rs 2000 in the first week of April will be transferred: Finance Minister Nirmala Sitharaman
26 March 2020, 13:36 PM
The Finance Ministry announced five kilos of wheat or rice more than already alotted for the next three months for around 80 crore people.
26 March 2020, 13:30 PM
FM Sitharaman announces the "Prime Minister Gareeb Kalyan" scheme of Rs 1 lakh 70 thousand crores for daily migrant, wage labourers.
26 March 2020, 13:28 PM
FM Nirmala Sitharaman announces Rs 50 lakh as medical cover for heath workers, officials and Asha workers who have been working round the clock in this pandemic situation.
26 March 2020, 13:19 PM
Delhi Chief Minister Arvind Kejriwal on Thursday said that people need not panic as essential services shops will remain open 24x7 in the national capital during the 21-day lockdown announced by the Prime Minister to tackle coronavirus. The Delhi CM said that food delivery has also been allowed in the national capital. He said this while addressing a joint press briefing with Delhi Lt Governor Anil Baijal. "Food home delivery services have been allowed; the delivery persons can show their ID cards that will be sufficient,'' Kejriwal said. Read more here
26 March 2020, 12:14 PM
Four new cases of coronavirus reported from Maharashtra in the past 24 hours taking the total to 126.
Mumbai - 49, Pune - 18, Pimpri Chinchwad - 12, Sangli - 9, Navi Mumbai - 8, Kalyan-Dombivali - 6, Nagpur - 4, Yavatmal - 4, Thane - 4, Ahmednagar - 3, Satara - 2, Panvel - 2, Ulhasnagar - 1, Aurangabad - 1, Ratnagiri - 1, Vasai Virar - 1, Pune Rural - 1.
26 March 2020, 11:58 AM
DGP Karnataka tweeted: "For the convenience of citizens grocery shops and supermarkets seeking food articles can be open 24x7 all over the state. Cooperate with police by avoiding crowding."
For the convenience of citizens grocery shops and supermarkets seeking food articles can be open 24*7 all over the state. Cooperate with police by avoiding crowding.

— DGP KARNATAKA (@DgpKarnataka) March 25, 2020
26 March 2020, 11:50 AM
COVID-19 cases rise to six in Chhattisgarh, confirms Raipur AIIMS Director NM Nagarkar
26 March 2020, 11:38 AM
India under lockdown Day-2; photos from Patna.
26 March 2020, 11:20 AM
A total of 800 people who had came in contact with the mohalla clinic doctor in Delhi's Mohanpuri, who tested positive for coronavirus, have been quarantined for 14 days: Delhi Health Minister Satyendar Jain
 
26 March 2020, 11:10 AM
Telugu superstar Pawan Kalyan pledged to donate Rs 1 crore to PM relief fund. He said in turbulent times like this, his exemplary and inspiring leadership would truly bring  our country from this Corona pandemic. He also announced that he will be donating Rs 50 Lakhs each to both AP and Telangana CM relief funds to fight against Corona pandemic.
26 March 2020, 11:02 AM
Shri Ram Janmabhoomi Tirth Kshetra Trust meeting indefinitely postponed due to coronavirus. The meeting was to be held on April 4
26 March 2020, 10:41 AM
Total number of COVID-19 positive cases rise to 649 in India which includes 593 active cases, 42 cured and 13 deaths, as per the Ministry of Health and Family Welfare.
26 March 2020, 10:06 AM
A 65-year-old man dies of coronavirus in Srinagar, death toll in India is now at 13.
26 March 2020, 09:52 AM
DGP Punjab Police stated that it will permit, even facilitate, movement of trucks on all highways and roads for smooth movement of essential goods in the state.
For smooth movement of essential goods, Punjab will permit, even facilitate, movement of trucks on all highways & roads of the State.

In case of any problem, please
DIAL 112#PunjabFightsCorona #PunjabPoliceIndia

— DGP Punjab Police (@DGPPunjabPolice) March 26, 2020
26 March 2020, 09:27 AM
A Champions League football match between Italy's Atalanta and Spanish club Valencia, which was played at San Siro Stadium on February 19 has been linked with the outbreak of the deadly virus in Italy. Ironically, ,both Italy and Spain are the worst affected nations due to coronavirus with 7,503 and 3,647 deaths, respectively. Read more here
26 March 2020, 08:18 AM
Maharashtra home minister Anil Deshmukh on Twitter shares a touching video where a child tells his father, who is a cop, to not go outside as there is 'corona outside'.
pppaa baahr koronaa aah.....

svt: laa dhokyaat ghaaln, aaplyaa priyjnaancii kaaljii baajlaa tthvn naagrikaacii srkssittaa saabhaalnnaaryaa polis krmcaaryaanaa maajhii khp khp shaabaaskii!#MahaFootSoldiersForWarOnCorona@DGPMaharashtra pic.twitter.com/qp9urnYoRh

— ANIL DESHMUKH (@AnilDeshmukhNCP) March 25, 2020
26 March 2020, 07:56 AM
The Indian Air Force on its official Instagram handle urges people to maintain social distancing as a measure to fight coronavirus.
26 March 2020, 07:52 AM
Another positive COVID-19 case reported from West Bengal taking the total number of cases to 10 in the state. The patient is a 66-year old man from Nayabad and had been admitted to Peerless Hospital on March 23.
26 March 2020, 07:50 AM
Toll collection across all toll plazas in India has been suspended temporarily, Union Minister Nitin Gadkari tweeted.
In view of Covid-19, it has been ordered to temporarily suspend the collection of toll at all toll plaza across India. This will not only reduce inconvenience to the supply of emergency services but also save critical time. #IndiaFightsCorona

— Nitin Gadkari (@nitin_gadkari) March 25, 2020
26 March 2020, 07:45 AM
Indian Navy aircraft helps to transport a team of doctors from Goa to Pune on March 25, 2020.
26 March 2020, 07:39 AM
Jharkhand CM Hemant Soren on Twitter expressed his thanks to the Maharashtra government for providing food to 27 migrant labourers who were stuck in Ulhasnagar, Kalyan due to the nation-wide lockdown. Earlier, Shiv Sena leader Shrikant Eknath Shinde had tweeted: "By the order of Maharashtra CM Uddhav Thackeray, 24 migrants in Ulhasnagar, Kalyan have been located and contacted. All of them have been assured that their food arrangment will be taken care of till the communication bandh imposed to fight the coronavirus epidemic is lifted."
बहुत बहुत धन्यवाद श्रिकांत जी। https://t.co/aFGmUcac22

— Hemant Soren (@HemantSorenJMM) March 25, 2020
26 March 2020, 07:10 AM
Three cases of coronavirus positive in Goa. People with travel history from Spain (25 years), Australia (29 years) and US (55 years), confirms DHS. CM says their condition is stable at present, being quarantined and their contacts are being traced.