Just hours after a post on his Facebook page targeted his mother and former Bihar chief minister Rabri Devi, Rashtriya Janata Dal leader (RJD) leader and party supremo Lalu Prasad Yadav's son Tej Pratap Yadav has alleged that his Facebook profile was hacked.
Speaking to news agency ANI, the Yadav scion alleged that his Facebook profile was hacked by members of the Rashtriya Swayamsevak Sangh (RJD) and the Bharatiya Janata Party (BJP), asserting that there were no differences within the Yadav family.
"There is no difference within the family, we stand united. We will defeat BJP-RSS in 2019 elections. My Facebook account has been hacked. BJP-RSS is doing this," said Tej Pratap Yadav.
He also took to Facebook to issue a statement. He said, "Doston, aaj phir chacha ne BJP ke saath milkar hamein todne ka koshish kiya. Aaj shaam mere Facebook ID ko hack kar liya gaya aur ek post karke hamare parivar ko todne ka prayas kiya gaya. Sunn lo janadesh ke dakaito mera parivar meri jaan hai, mera bhai mera baaju hai, kaleja ka tukda hai mera bhai (Friends, today again uncle - Nitish Kumar - along with BJP tried to break us. Today evening my Facebook ID was hacked and one post was done in an attempt to break our family. Listen looters of mandate, my family is my life, my brother is my strength, a piece of my heart).
This came after the letter on Facebook was deleted soon after being posted. In the post, it was written that Rabri Devi had not been paying any heed to issues raised by Tej Pratap Yadav and therefore, he was compelled to quit politics.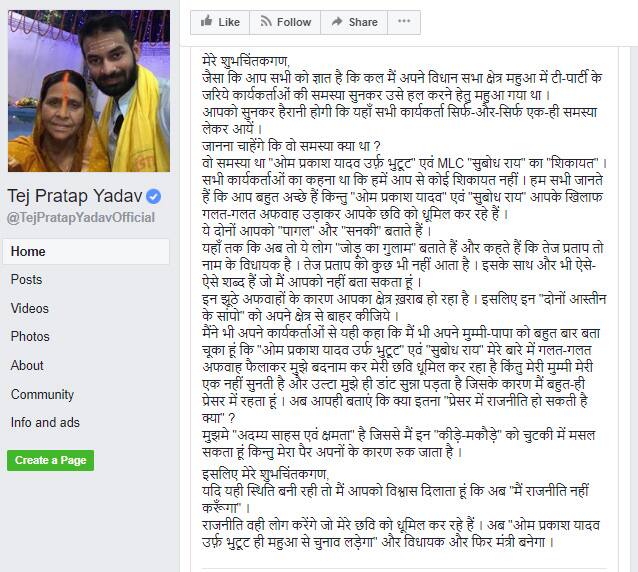 Accusing RJD leader Om Prakash Yadav and Member of Legislative Council Subodh Kumar Rai of trying to harm Tej Pratap's reputation, the post said that the RJD leader had raised the issue with both Rabri and Lalu, but instead of acting against them, his mother scolded him for the same.
According to the post, Tej Pratap was informed by people in his constituency that Om Prakash Yadav and Subodh Kumar Rai had been referring to him as "pagal" and "sanki" (mentally disturbed). They also allegedly referred to him as "Joru ka Ghulam" (slave of his wife).
The post further said that Tej Pratap was under tremendous pressure because of such issues, asking his supporters whether he should continue in politics in the current circumstances. It further said that though Tej Pratap could decimate his rivals with ease, his own people had stopped him from going ahead.