Voices of the dispossessed: Story of Gadia Lohars in Delhi
The Gadia Lohar Basti, was a settlement of 18 families of a nomadic scheduled tribe consisting of blacksmiths, who migrated from Rajasthan to Delhi in 1965.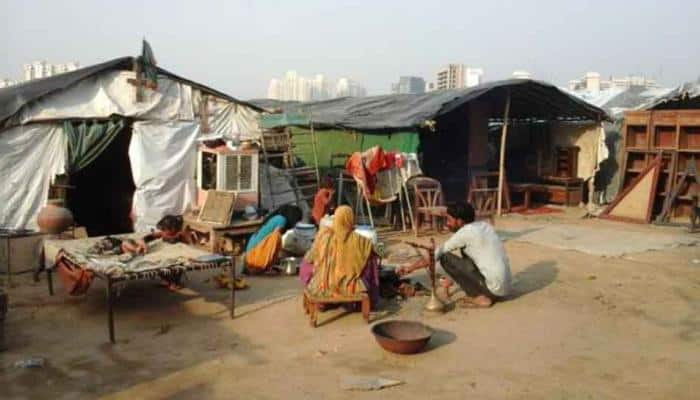 By Shibangi Sinha Roy, ZIMA
The picture of India as the new cosmopolitan juggernaut in the world is fast becoming tainted with the rising 'cost of development'. India, clearly, lives two lives. On one hand is the elusive picture of India as the shiny new player in the world market, with a screen-savvy government at its helm, ready to take risks for development.
But on the other hand is the tarnished picture of India, suffocating under the weight of cosmopolitanism and emerging 'smart cities'. While chasing sensational sugar-coated headlines by the international press, the Indian government often forgets its responsibility towards its own people.
It has been eight years since the people from the Gadia Lohar community were illegally displaced in New Delhi. As the city buffed and shined itself in preparations of hosting the Commonwealth Games, bulldozers razed down an entire settlement of people near Tyagaraj Stadium on Jan 12 2009. No prior notice was given to the victims. The Gadia Lohar Basti, was a settlement of 18 families of a nomadic scheduled tribe consisting of blacksmiths, who migrated from Rajasthan to Delhi in 1965.
"Bulldozers ran over our homes in front of our eyes", said a woman in her forties who requested anonymity.
Not only was this violation of human rights but also, a violation of remedy. Despite Delhi High Court's judgment in 2010, directing the authorities to plan a proper rehabilitation policy for the victims within 4 months of the demolishment, the same is yet to be provided. The community resides in a temporary settlement near Prem Nagar Kotla in South Delhi.
Besides the long-term psychological impact of forced eviction; poor sanitation, lack of medical assistance and inadequate living conditions has contributed to spread of diseases such as dengue, malaria etc. As the Gadia Lohars were moved from their homes, many lost their livelihoods. Children had to drop out of school as a direct result of the forced evictions. Many had to take up odd jobs to support their families.
"Many of us lost our very source of earning because of the distance. Now my father barely earns Rs 100/per day and my mother is working as a maid to support the family", said Pappu who is 23.
Amidst crisscrossing flyovers and automated rails, cases like these brings attention to the insensitive attitude of the state towards the marginalized. According to the Housing and Land Rights Network: more than 2,50,000 people were virtually displaced just before the CWG 2010 in Delhi. Those evicted were city's working poor, such as the homeless, beggars, street vendors, slum dwellers, and construction workers. These evictions were carried out for construction of stadiums, building of parking lots, widening of roads, city 'beautification,' and grounds of 'security.' Notably, the human right to adequate housing has been recognized as integral to the right to an adequate standard of living in Article 25 of the Universal Declaration of Human Rights (1948).
However, despite their best efforts, justice is yet to be served.
Along the Gadia Lohars, the settlement of Dargah Bhure in Shah Camp B, Madrasi Camp in Jangpura B, JJ Camp in Prem Nagar, and Indira Gandhi Camp II, Prabhu Market Camp, Prabhu Market Extension Camp, Indira Gandhi Camp and Viklang Basti were also evicted during the CWG (2010) beautification spree.