Surya Kiran team to perform at Aero India 2019 in Bengaluru, pay tribute to Wing Commander Sahil Gandhi
The Surya Kiran team will pay homage to Wing Commander Sahil Gandhi.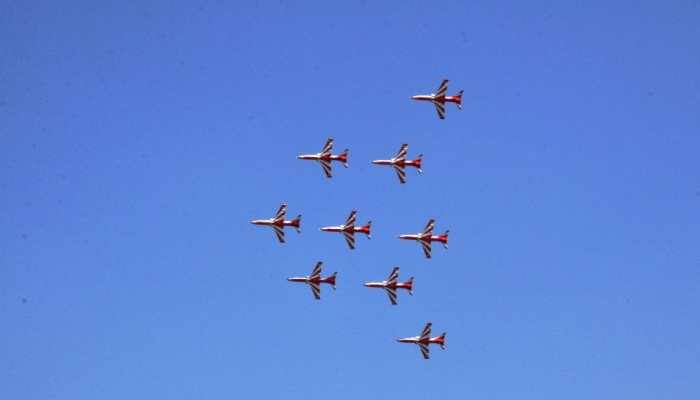 Bengaluru: The Surya Kiran team will perform at the ongoing Aero India 2019 event in Bengaluru. The performance by the Surya Kiran team is set to take off at 10 AM.
However, the otherwise nine-aircraft demonstration will be flying with only seven, said reports.
The Surya Kiran team will pay homage to Wing Commander Sahil Gandhi, who was killed in the mid-air crash at Yelahanka Air Force station in which two other pilots were injured.
According to officials, there will be a special manoeuvre for deceased Wing Commander Gandhi.
This comes days after Air Marshal Rakesh Kumar Singh Bhadauria announced that the Surya Kiran would not be a part of Aero India 2019 display after the unfortunate crash.
Addressing a press conference on February 19, Bhadauria said, "We have had an unfortunate incident and the investigation will take place. But Surya Kirans won't be part of the display at Aero India 2019."
The Hawk jets were performing a manoeuvre when one was flying inverted carrying a pilot and the other below it with two pilots moments before they hit each other and spun out of control, according to police and eye witnesses.
The incident occurred at around 1150 hours while practising for the air show, the Defence PRO office said in a statement.
One of the three aircrew of the aircraft, Wing Commander VT Shelke and Squadron Leader TJ Singh ejected safely. However, Wing Commander Sahil Gandhi sustained fatal injuries, it said.
Throwing light on the mishap, Bhadauria said, "In this particular incident, they were doing a mirror image. The margin of error is very low."
''Surya Kiran'' is a demonstration of the Indian Air Force (IAF) usually with nine aircraft.
Till 2011, the squadron consisted of HAL HJT-16 Kiran Mk II military trainer aircraft. The team was suspended in 2011 and was re-established in 2017 with Hawk Mk-132 aircraft.
It was the first time the team was going to perform at Aero India since their suspension.
It may be recalled that 12th edition of the biennial Aero India 2019 air show took off on Wednesday with a dazzling flying display of aircraft at the Indian Air Force`s (IAF) Yelahanka base here.