New Delhi: Stock market witnessed a bloodbath on Friday with the Sensex crashing by over 730 points while Nifty sunk below 10,800 on panic selling across IT, pharma and banking sectors.
Stock markets also took a hit after Fitch Ratings said weak public finances constrain India's sovereign ratings. The BSE Sensex was trading at 35,169.96, down 736.70 points or 2.05 percent while NSE Nifty was down 231.85 points or 2.10 percent at 10,785.05.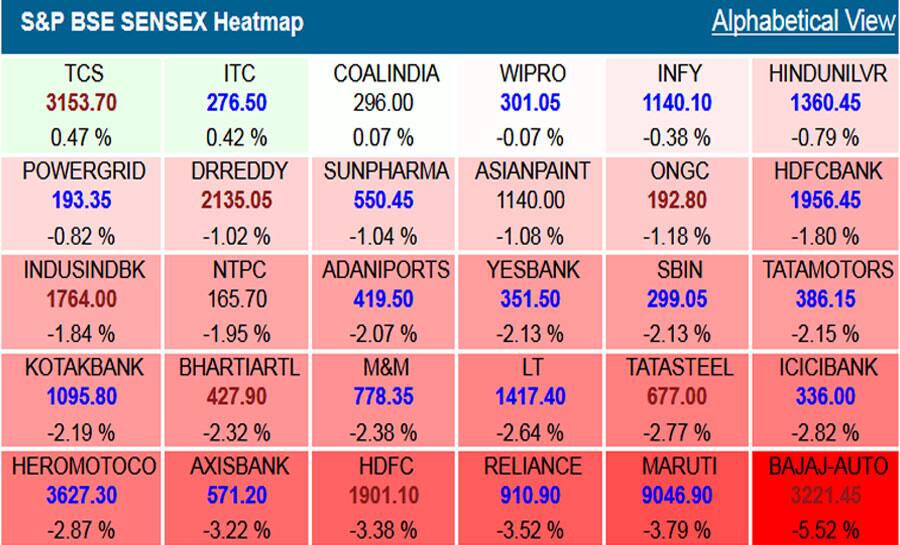 Stocks had opened down as the government's proposal to impose a 10 percent long term capital gains tax on equity gains of over Rs 1 lakh hit triggered profit booking in frontline stocks.
Finance Minister Arun Jaitley projected a fiscal deficit of 3.5 percent of GDP for current fiscal against the earlier target of 3.2 percent which also dampened the market sentiment.
The Sensex has touched a low of 35,295.70 points -- shedding over 600 points -- during the intra-day trade.
On Thursday, the Nifty50 fell by 10.80 points or 0.10 per cent to 11,016.90 points, while the Sensex closed at 35,906.66 points -- down 58.36 points or 0.16 percent.