New Delhi: Stock markets on Tuesday closed in the green as positive global cues on the prospects of easing trade war fears, along with healthy buying across almost all sectors led by banking, metals and healthcare stocks, lifted investor sentiments.
The Sensex rose 107.98 points to close at 33,174.39 while the Nifty was up 53.50 points to close at 10,184.15.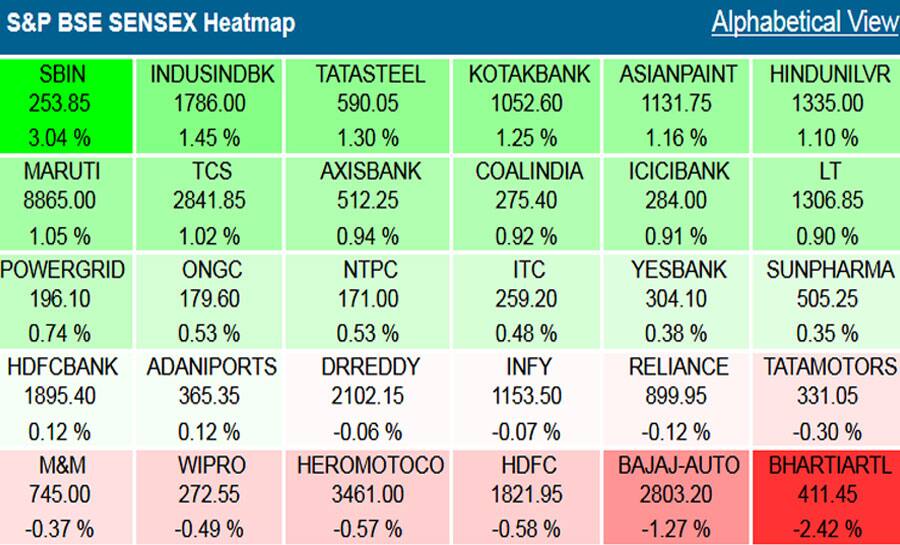 Gold prices bounced back by Rs 150 to Rs 31,950 per 10 grams at the bullion market on the back of positive global trend and fresh buying by local jewellers.
Silver followed suit and recovered by Rs 250 to Rs 39,750 per kg due to increased offtake from industrial units and coin makers.
Traders attributed the rise in gold prices to a firm trend overseas supported by a weak US dollar against basket of major currencies. Though, easing trade tensions between the US and China, capped some gains in the yellow metal.
Globally, gold rose 0.48 percent to USD 1,353.90 an ounce and silver by 0.85 percent to USD 16.67 an ounce in New York in yesterday's trade.
US markets surged, with the Dow and S&P 500 almost three percent higher and the Nasdaq piling on 3.3 percent -- its biggest one-day rise since August 2015.
Those strong performances continued in Asia, with Tokyo closing 2.65 percent higher thanks to a drop in the yen against the dollar, as traders shift out of assets considered safe in times of uncertainty and turmoil.Hong Kong added 0.8 percent in the afternoon and Sydney ended 0.7 percent higher. Singapore put on 0.4 percent and Wellington rose 0.9 percent, while Taipei, Manila and Jakarta were all healthily up.
Seoul rose 0.6 percent and the won climbed more than one percent against the dollar on speculation Kim was visiting Beijing. It would be his first trip outside North Korea since assuming power at the end of 2011.
With Agency Inputs