New Delhi: A tweet from an account claiming to be that of former Director-General of Pakistan's Inter-Services Intelligence (ISI) Hamid Gul has kicked off a storm on social media.
The tweet said, "India should mend its ways else we will not hesitate to make Delhi & Mumbai as today's Hiroshima and Nagasaki! Beware."
However, the authenticity of the account could not be verified.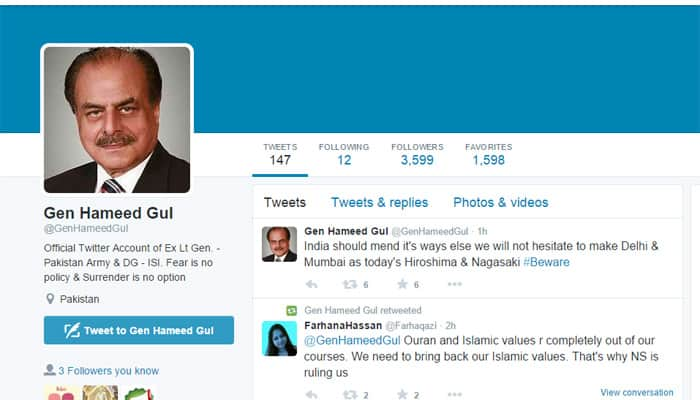 The 'warning' has come on a day when Japan is marking the 70th anniversary of the bombardment of Hiroshima by a US aircraft, which killed at least 140,000 people in the city.
However, it is not the first time that Gen Hamid Gul had warned India. On several occasions in past too, Gen Gul had warned New Delhi for allegedly interfering in the internal matters of Pakistan and mistreating Kashmiris.
As per a report published in The News Teller, Gen Hamid Gul had warned Prime Minister Narendra Modi and National Security Adviser Ajit Doval for making continuous threats and warnings to Pakistan.
Gen Gul said this in an interview to a Pakistani news channel on April 17 this year, the report said.
There will be no friendship with India until the final solution of Maqbooza Jammu and Kashmir, he had said.
Thousands of Kashmiris have died through the indiscriminate use of force and torture, firing on demonstrations, custodial killings, encounters and detentions by the Indian Armed Forces. rape also occurs during the crackdowns, he had alleged.
In an open threat to PM Modi, Gul said, "Who is Narendra Modi? He is nothing in front of us. By God, we have all those resources, plans, and techniques that are sufficient to break India into pieces and we can."
He had also criticised Pakistani Prime Minister Nawaz Sharif for his soft approach towards Indians.