New Delhi: Amid raging debate of anti-national sloganeering in JNU campus, a picture of Kanhaiya Kumar with a woman has massively gone viral. Here is the reality of the viral picture:-
What is this viral picture all about?
A picture of a woman with Kanhaiya has gone viral on the internet. In the picture, Kanhaiya Kumar is seen sitting on a sofa and the woman is sitting on its armrest. It was alleged by some social media users that the woman is a teacher in JNU and she is sitting on Kanhaiya's lap. 
Who is that woman in the picture?
The woman seen in the photograph is Saumya Mani Tripathi. 
Is she a teacher in JNU?
NO! She is not a teacher. She is a research scholar at JNU. 
Who actually shared the picture on Facebook?
The woman herself had shared the picture on her Facebook profile on March 5 with the caption - "Home is where #Azaadi is! Spring has arrived in JNU. Tum kuch bhi kar lo, hum leke rahenge #Azaadi. Waiting for our two beautiful flowers umar and ban to join us soon. (sic).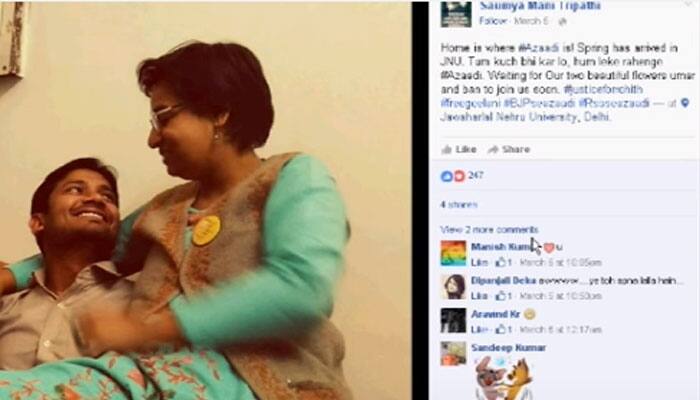 Clarification
The woman had offered the clarification on her Facebook profile but later removed (or may have changed the privacy settings) the post.