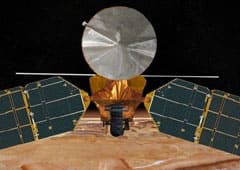 Zee Media Bureau\Philaso G Kaping
New Delhi: Mars Orbiter has covered a distance of 80 million kilometres and is well on its way to the Red Planet, according to the Indian space agency.
"MOM has already covered a distance of 80 million kms....another 600 million kms to go for a rendezvous with the Red Planet," wrote Indian Space Research organisation on its Facebook page on Thursday.
India`s first interplanetary spacecraft was launched on 5 November from Satish Dhawan Space Centre in Sriharikota, Andhra Pradesh.
So far, only three other space agencies including United States' NASA, Russia's Roscosmos and the European Apace Agency have achieved the feat of reaching Earth's closest neighbour.
Dubbed 'Mangalyaan', this ambitious project will study the Martian surface and atmosphere using indigenous scientific instruments.
The spacecraft is expected to reach Mars` orbit on September 14, 2014.