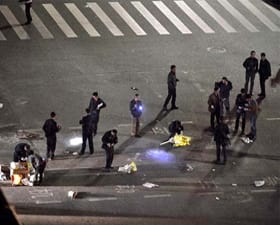 Zee Media Bureau/Supriya Jha
Beijing: In what is said to be a violent terrorist attack by the separatist forces in Xinjiang, terrorists brandishing knives went on a stabbing-spree at a railway station in Kunming city of China`s Yunnan province, slashing to death at least 29 people and injuring 130, reports said Sunday.
It was a brutal show of terror being unleashed on innocent civilians, who were either waiting for a train or buying the tickets, when about ten terrorists donning black, armed with knives, went about attacking people randomly.
Kunming is the capital and largest city of Yunnan province in southwest China.
According to the state news agency Xinhua, the police shot dead four assailants and arrested one. The hunt is on for the remaining suspects.
The attack comes at a time when President Xi Jingping`s government is set to deliver its first one-year work report on Wednesday when the country`s nominal legislature will open.
Condemning the attack, President Xi Jingping called for "all-out efforts" to arrest the culprits and punish them severely in accordance with the law.
Also, the country`s security chief Meng Jianzhu called the terrorists as "inhuman", saying that the perpetrators will be meted out severe punishment.
"This brutal attack on defenceless, innocent people by violent terrorists devoid of conscience exposes their inhuman and anti-social nature," Xinhua quoted him as saying.
Meanwhile, the state agency Xinhua has called the iknife attack as China`s 9/11 attack, comparing it to the terrorist attack on America`s twin towers in 2001.
"It was a typical terrorist attack and a severe crime against the humanity. It was China`s "9/11", said a commentary in Xinhua.
Witnesses described the scene of attack as injured people lying in the pools of blood.
According to one of the survivors named Yang Haifei, who was at the hospital receiving treatment for his chest and back injuries, said that the attackers chased people with long knifes.
"I saw a person come straight at me with a long knife and I ran away with everyone," Xinhua quoted hims as saying.
He added that those who were slow couldn`t escape and fell down to the ground after being attacked.
Another witness told a news agency that there was utter panic and chaos at the station as people started running for their lives as the attackers rushed towards them brandishing knives.
"I saw two attackers, both men, one with a watermelon knife and the other with a fruit knife. They were running and chopping whoever they could," the Associated Press quoted one of the witnesses.
The attack, which is the bloodiest attack in China in recent years, has been called as "premeditated, violent terrorist attack" by the ethnic separatists in Xinjiang in western China.
Xinjiang is home to the Uighur Muslims. Xinjinag has been restive for the past few years as Uighurs have protested over growing settlements of Han Chinese in the province.
 
The militants belonging to the banned East Turkistan Islamic Movement (ETIM, an al-Qaeda linked group have been staging many violent attacks through Xinjiang but very rarely they attack outside the province of Xinjiang.
 
Earlier, in last November, Xinjiang terrorists had rammed a car laden with explosives into a crowd at the famous Tiananmen Square, killing five.