Shah Rukh Khan shares playboys' mantra in this picture with Aryan, AbRam Khan — Take a look
The superstar has explained the 'playboy' mantra with these pics!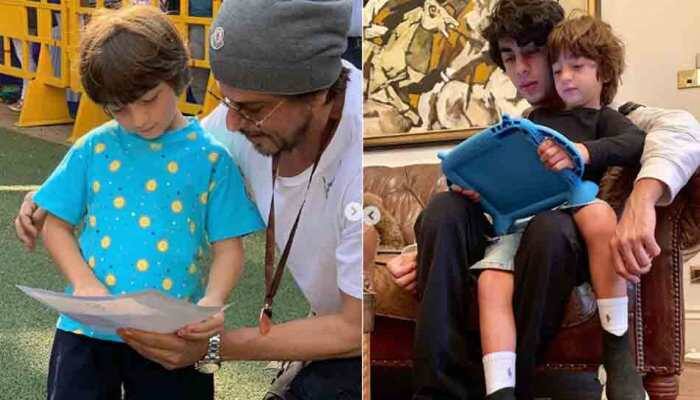 New Delhi: Actor Shah Rukh Khan has shared pictures on Instagram that show the bond shared by his sons Aryan and AbRam. In the photos, AbRam is seen with Shah Rukh in one photo and with Aryan in another.
"'Winning is only half of it..having fun the other half...Playing is All of it!' The Playboys' mantra," he captioned the photos.
"Winning is only half of it....Having fun is the other half!! Playing is All of it...." The Playboys' mantra. pic.twitter.com/8SA7DYdsOg — Shah Rukh Khan (@iamsrk) January 18, 2019
The first picture shows AbRam showing a certificate to his father Shah Rukh Khan while the other one shows him with his elder brother Aryan.
While Aryan is 21-year-old, AbRam is only 5. Shah Rukh and Gauri Khan also have an 18-year-old daughter Suhana Khan, who is currently finishing her studies.
In a recent interview to HT, Shah Rukh said that Aryan will learning filmmaking for a few years before he makes his debut. "If Aryan decides to be an actor, it will only be an honour for him to work with directors of that calibre. But I think he wants to be a filmmaker. Aryan is studying to be a filmmaker and a writer, while Suhana wants to be an actor.
But even if he wants to be a filmmaker, he needs to study for another five to six years and not just the literal form of studying, but probably be an assistant to Karan after he finishes his film-making course. Aisa nahi hai ki tumhara baap actor hai toh set pe aake assistant director ban jaao. Similarly, Suhana should learn acting for another three to four years if she wants to be an actor. I know many of my industry friends feel my kids should start acting tomorrow. But it's my belief that they shouldn't start acting yet," he said.
On the work front, Shah Rukh is rumoured to be doing a biopic on Rakesh Sharma and the third installment of 'Don'.