Bizarre and baffling: Virat Kohli's reaction to reports of rift with Rohit Sharma
"I've always praised Rohit. We have had no issues. Don't know who is benefitting from all of this."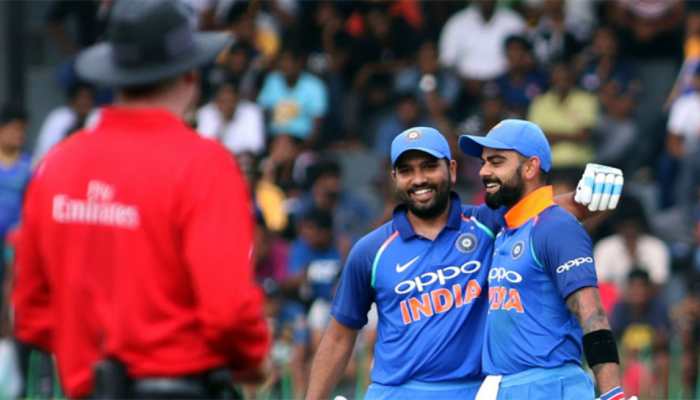 Team India captain Virat Kohli on Monday dismissed speculation that all was not well between him and vice-captain Rohit Sharma and said that it is because of team chemistry that the national side has climbed the summit of international rankings.
Speaking at a press conference just before the team's departure for West Indies, Kohli was asked to react on reports of a possible tiff between him and Rohit. A calm Kohli said that the team's performance in recent times was a good enough response. "It baffles you as a player and team when such lies come out. It is bizarre, If the atmosphere in the team is not well, the team would not have been so consistent so far," he said. "We have climbed from No. 7 to No. 1. This cannot be done without the camaraderie between the players."
Admitting that the atmosphere in the dressing room is a crucial part of ensuring success on the field, Kohli said that there is great bonding between the players and with the support staff as well. "If I am insecure about a person then you will see it on my face and behaviour," he said. "I've always praised Rohit. We have had no issues. Don't know who is benefitting from all of this. We are working to get Indian cricket on top."
There have been unverified reports in the recent past that have claimed that all has not been too well between Rohit and Kohli since Team India's exit from the World Cup. While both players had thus far maintained silence in this regard, Rohit apparently unfollowing Bollywood actress Anushka Sharma - Kohli's wife - added fuel to the speculative fire. Kohli, however, went on the front foot to slam such readings. "We are feeding of lies and overlooking facts. Bringing personal lives into picture is disrespectful," he said.
Kohli was at the press conference with Team India coach Ravi Shastri who too rubbished all such speculations of rifts. "No individual is bigger than the game. They have been doing well. Rifts and divisions are not possible when they have been consistent. It is nonsense," he said.
It is baffling to read (reports of an alleged rift). We are feeding off lies, overlooking facts & turning a blind eye to all the good things that have happened. It is disrespectful: @imVkohli pic.twitter.com/gl9oPm8veE — BCCI (@BCCI) July 29, 2019
The team would now be hoping to put all such speculations and rumours to rest as it sets its sight on a dominant performance against West Indies. India plays three T20Is against West Indies starting August 3, followed by three ODIs and two Tests.
All eyes would also be on coach Ravi Shastri who had his term with the team extended for the tour by the Board of Control for Cricket in India (BCCI). BCCI has invited fresh applications for the support staff, including head coach, and the existing members get an automatic reapplication. At the pre-departure press conference, Kohli backed Shastri to continue. "We will be very happy if Ravi bhai continues as the coach. But right now I have not been contacted by the CAC," he said.
Live Tv