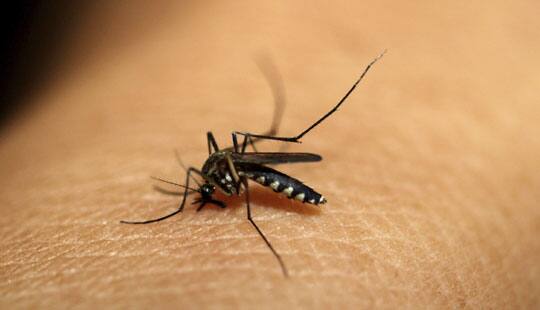 Salome Phelamei
As human, we can't avoid sickness. Everybody falls ill at one point of time or the other in their lives. Therefore, taking care of one`s health and well being is crucial to have a good and most form of life.
On the occasion of World Health Day, April 7, 2014, the World Health Organisation (WHO) is highlighting the serious and increasing threat of vector-borne diseases (VBDs), with the slogan "Small bite, big threat".
Vector-borne disease have now become a global public health threat with more than half of the world`s population at risk from it, especially pregnant women and children. However, most of these diseases are preventable through informed protective measures.
Vector-borne diseases include malaria, dengue, leishmaniasis, lyme disease, schistosomiasis, and yellow fever, etc.
While mosquitoes are the best known disease vector, others include ticks, flies, sandflies, fleas, triatomine bugs and some freshwater aquatic snails.
According to the WHO, vector-borne diseases account for more than 17% of all infectious diseases, and as a result of which more than 1 million deaths happen annually.
Of all the vector-borne diseases, malaria is the most deadly disease causing more than 600000 deaths every year globally. But, dengue is the fastest vector-borne disease with 40% of the world`s population at risk. Also, an estimated 1.3 million new cases of leishmaniasis occur annually.
It has been observed that vector-borne diseases affect the poorest populations, where there is a lack of access to adequate housing, safe drinking water and sanitation. And around 70 percent of the countries and territories hit by VBDs are low income and lower-middle income with causes like climate, environmental change and globalization.
Talking about the India's scenario, Dr Nata Menabde, WHO representative to India said the burden and risk of vector-borne diseases is massive, posing major public health problems and hamper socio-economic development.
For instance, cases of mosquito-borne dengue has been rising every year in India, where the disease is now endemic in the country. Last year over 70,000 cases of dengue were reported in the country. Dengue is now found in 100 countries.
With an objective to help increase the life expectancy by adding good health to the lives of people and to promote healthier living habits, World Health Day is celebrated on 7 April every year, where a theme is selected that highlights a priority area of public health.
WHO held the first World Health Assembly in Geneva where it was decided to celebrate 7 April of each year as World Health Day. World Health Day was first celebrated worldwide in the year 1950.
Hence, this World Health Day, WHO urges for renewed focus on better prevention and cure from vector-borne diseases spread by vectors and travellers from one country to other. It also advocates for provision of safe drinking water, sanitation and hygiene as these are very important factors in disease control and elimination.
The organization responds to vector-borne disease by developing new tools to combat the vectors and deal with the disease. It also provides technical support and guidance to countries to effectively manage cases and outbreaks.