The choice of love and its power to change the world
A cute love story `Life can be beautiful' makes global impact.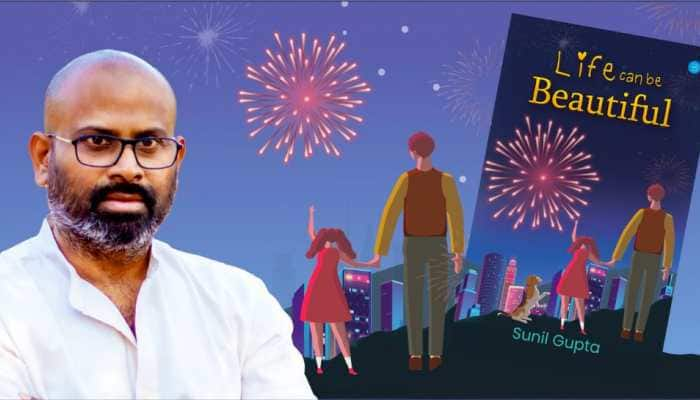 The choice is yours to make. Drown in sorrow unable to face the inherent challenges of life. Face up to mountainous hurdles with determination guided by love. Time, we all made the choice. Time we all smiled at all times by making the right choice.
Meet Sunil Gupta. A very simple Indian, but a true one. An Indian who is epitome of talent that the country is known for. An Indian who is spreading the message of love that the country has always been known for. The Indian who is making sure the world takes note of this message and transforms.
A big challenge indeed, but the multi-talented Sunil with his debut novel `Life can be Beautiful' is doing just that. Through this unique love story he shows the positive path,
the path off love that makes challenges a beautiful experience that can bring a smile on every face in the world.
Sunil, the versatile personality that he is, Sunil is on a mission to make an impact not just in India but globally. He confidently declares his novel is "India's message of love, the cutest love story ever."
The soft hearted Sunil has always been appreciated for his work because he has strong beliefs. This has been reflected in his popular works with the novel being his latest passionate creation. Sunil presently donning the author's hat now is a successful director, producer, lyricist and even music composer.
The popular patriotic music video "Ananya Bharat" on YouTube is his depiction of the diversity in India which actually is the secret of its unity. Sunil has written the lyrics, composed music and directed the music video ensuring his vision for it is achieved,
Check out true empowerment of women in his short feature film `Ladke Rote Hain' that is making waves on YouTube. It is written, produced and directed by Sunil.
Human psychology and emotions stand out in the popular thriller feature film `Woh Pehli Baar' that Sunil has written, directed and produced. The lyrics and soulfully composed music are also his. It has trended on MX Player.
Sunil who has now embarked on the journey of `Life Can be Beautiful' is on a mission to make sure everyone gets off the covid pandemic nightmare. His message of love is for effecting a positive change in in this world to make everyone smile.
Ask him about his latest passionate journey and Sunil quips,
"This novel is a cute love story with a uniqueness that will touch hearts as it is between a 6 year old daughter and her father. It stands out because it leads to a change in humanity."
Stresses Sunil, "It is a sad and happy ride of life that inspires humankind to change the way they look at all things. It proves that challenges can never be a burden if dealt with positivity."
Explaining the global message, Sunil states, "What better a catalyst than love to ensure happy people world over. The power of love, how it can transform our mindset and that of the world by touching every heart is what the novel proves."
The strong universal message of the novel is proven by the constant proposals to adapt it for the big screen.
Explaining his plans to take the novel to touch every heart, Sunil says. "The book proves how love can be a movement for a better world to live in and this is possible if if understand its potential. This is why I am sending the book to every head of a country in the world, all the embassies and even the United Nations. The start will be with our Prime Minister Shri Narendra Modiji, He will be the first leader of a country to receive a copy of the novel."
As always, Sunil in himself leading by example. He has decided that 51% of the royalty from the book sale will go in donations to charitable institutions particularly orphanages.
Addressing the people of the world, Sunil appeals, "We can all be happy by using the power of love that is omnipresent in us all. Just tap that energy. That energy of love will not just transform each one of us but can be used to harness happiness and positivity throughout the world. Just make that effort and see the magnificent result."
(For more log on to www.lifecanbebeautiful.co)
(Above mentioned article is a sponsored feature, This article is a paid publication and does not have journalistic/editorial involvement of IDPL, and IDPL claims no responsibility whatsoever.)
Live Tv