Karnataka turmoil live updates: Kumaraswamy govt to face no confidence motion on Thursday (July 18)
The political future of Karnataka's Congress-JDS government remains in limbo as dissenting MLAs from both parties refuse to budge.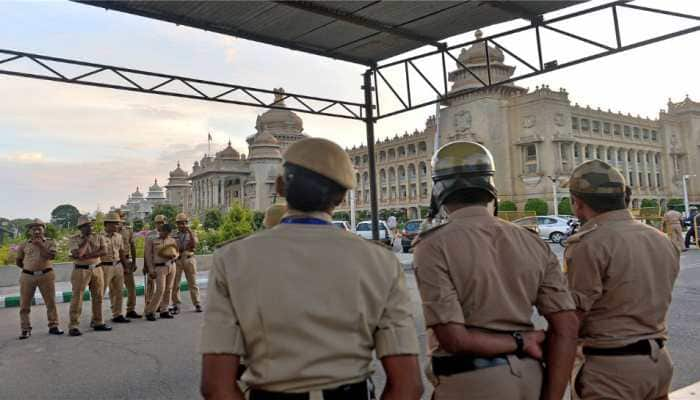 LIVE Blog
HD Kumaraswamy-led Karnataka government is fighting fire with its political future remaining under a cloud of uncertainty following the resignation of several MLAs from Congress as well as Janata Dal Secular.
Congress has parachuted several top leaders into Mumbai where the dissenting MLAs are staying but these MLAs have written to Mumbai Police claiming they are under potential threat from these leaders. There is no intention of meeting any Congress leader, write these dissenting MLAs as they remain adamant on their resignations.
While the rebel MLAs have remained steadfast after tendering their resignations, Congress continues to claim that all is well while JDS says the Karnataka government is under no threat. Kumaraswamy and Mallikarjun Kharge are scheduled to reach Mumbai and reach out to the MLAs who are holed up in the city's Renaissance Hotel.
Drama could be played out in Vidhana Soudha as well where Day 1 of the Assembly begins.
Catch all the live and latest updates from the political tussle in Karnataka here:
16:31 PM
The HD Kumaraswamy-led Karnataka government will seek the trust vote on the floor of the house on Thursday. The decision was taken on Monday by the state Assembly Speaker Ramesh Kumar after the coalition partners Congress and JDS, and the Opposition BJP agreed to it.
14:03 PM
Karnataka Assembly to discuss BJP's request for No Confidence Motion against HD Kumaraswamy government on Thursday (July 18).
12:59 PM
BJP submits letter to Speaker demanding No Confidence Motion against HD Kumaraswamy-led government.
12:51 PM
Congress and JDS MLAs arrive at Vidhana Soudha. 
11:38 AM
Congress MLAs leave for Vidhana Soudha from Taj Vivanta hotel. (ANI Photo)
11:32 AM
BJP MLAs arrive at Vidhana Soudha. (ANI Photo)
11:21 AM
With top Congress leaders as well as Kumaraswamy expected in Mumbai today, rebel Congress MLAs have written to Mumbai Police asking for more security.
"We are not interested in any meeting. We face a potential threat," the letter reads. Read full report here.
11:19 AM
BJP MLAs to reach Assembly shortly. They have been staying at Bengaluru's Ramada Hotel.
11:17 AM
BJP continues to maintain pressure.
"We stand by our demand(of floor test). The behaviour of Assembly Speaker and CM is highly uncalled for and unacceptable. When the MLAs have personally handed Speaker their resignations, what inquiry does he want?" asks Pralhad Joshi.
11:16 AM
We would likely hear the case of five rebel MLAs- K Sudhakar, Roshan Baig, MTB Nagaraj, Muniratna and Anand Singh, tomorrow along with the main petition which is pending before us: Supreme Court
Rebel MLAs had moved the top court against Speaker Ramesh Kumar for not accepting their resignations.