Get rid of dandruff with these 5 DIY home remedies for some haircare in winter
With winter comes an itchy scalp and dry skin, so yes dandruff is a thing and we are here to help you treat it at home. Here are some home remedies to keep dandruff at bay this winter.
Winter causes dandruff which can cause itching, dryness and a lot of embarrassment
Stress can affect your health and may trigger increased dandruff production
Use safe products that do not react badly with your hair or scalp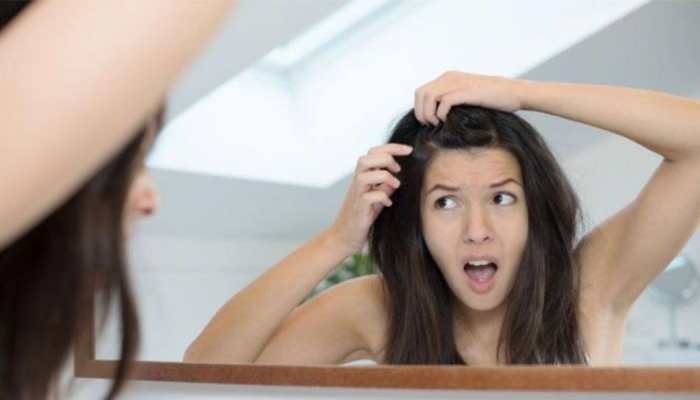 Haircare in winter: Warm coffee and cosy blankets are all hallmarks of the winter season but our scalp, too, might have an impact. The most annoying and embarrassing hair problem that exists is dandruff. The odd appearance of the white flakes can be incredibly upsetting. To solve this problem, you need to start by using hair care guidance.
If the case of dandruff is not severe, home remedies can be beneficial. It is advised that you get medical treatment if your dandruff is severe so that this problem can be resolved. To keep your scalp clean, hydrated, and healthy, you only need to practise a few hair care tips.
Here are five homemade hair remedies to avoid winter dandruff:
1. Apple cider vinegar
One of the best natural cures for severe dandruff is said to be ACV, it can help balance the pH of your scalp and hair and has antibacterial properties which prevent infections on your scalp. However, there is a specific way that the mixture must be made. You can make apple cider vinegar by following these simple instructions.
- Equal parts of water and apple cider vinegar should be added.
- Apply the mixture to your wet hair following a head wash.
- Gently massage the mixture through your hair.
- After 15 minutes of drying, rinse it off.
2. Coconut oil with lemon
With a little lemon juice added, coconut oil, which is known to nourish hair, is also said to be capable of treating dandruff. This is a simple home solution to get rid of those little flakes that make you feel insecure. Use these straightforward ways to get rid of dandruff for good.
- First, heat 2 tablespoons of coconut oil and combine it with a mixture of lemon juice in an even quantity.
- Once done, gently massage your hair while applying this to your scalp.
- After completing this, let it sit for 20 minutes and then shampoo it.
3. Mouthwash
The antifungal properties of mouthwash can combat the bacteria that is preventing this yeast from growing.
- Initially, you will need 9 tablespoons of water and 1 tablespoon of mouthwash.
- In a small bowl, combine the mouthwash and water.
- Once you've finished, be sure to wash it off with anti-dandruff shampoo to help get rid of all the nasty germs.
4. Apply mehndi or henna
Dandruff can be treated using mehndi. Your hair benefits from mehndi's ability to soften it. The henna mixture for your hair should be made as follows.
- First, combine the mehndi with the curd and a little lemon juice.
- Keep the mixture aside for 8 hours once it has been transformed into a paste.
- You can apply it to your hair.
- After letting it dry on your hair for two hours, wash it off.
5. Fenugreek seeds or methi dana
As a preventative treatment for dandruff, fenugreek seeds are used. This treatment, with methi seeds, needs to be carried out correctly and can be applied as follows
- The first step is to soak some fenugreek seeds in a small basin of water for the night.
- Make sure to crush the seeds into a paste-like consistency as soon as you wake up in the morning. After that, stir the paste while adding a little lemon juice.
- Apply the mixture to your scalp and hair after it has turned into a paste, and then wait 30 minutes for it to dry.
- Once this has been completed, shampoo your hair and let it air dry.
To avoid dandruff in winter, take a little extra care.
(Disclaimer: Ths article is based on general information and does not substitute for an expert's advice. Zee News does not confirm this.)
Live Tv