Mumbai rains and local trains live updates: Rail and road traffic severely affected
Road and rail traffic has been disrupted in several parts of the city with heavy showers continuing since the wee morning hours.
LIVE Blog
Heavy showers have lashed Mumbai and its adjoining suburbs since the wee hours of Monday morning, taking a toll on road and rail traffic. Several areas in the city have reported waterlogging with locals facing enormous trouble in making their way to their respective destinations.
While road traffic has come to a near-halt in several places including Bandra, Parel and Dadar, train movement too is affected - especially in Palghar.
Here are the live and latest updates from all rain-related developments in Mumbai on Monday (July 1):
14:52 PM
Western Railway cancels two AC Locals:
@WesternRly Following AC Locals are cancelled on 01.07.2019
1. AC EMU ex CCG at 14.55 hrs &
2. Ex VR at 16.22 hrs.

— DRM WR MumbaiCentral (@drmbct) July 1, 2019
12:10 PM
Zee News correspondent Ankur Tyagi, reporting from King's Circle, reports that waterlogging has resulted in massive traffic jams in the area. A half-submerged Honda City is stranded in rainwater and with drainage systems blocked, rescue efforts are being proven difficult.
Questions are, once again, being asked of BMC with locals slamming preparations made in the city for the monsoon season.
12:07 PM
Five people reportedly killed in rain-related incidents across the city.
11:46 AM
A special focus given to crowd management at railway stations, especially those where tracks are submerged under water.
Railway Police Force deployed at various stations to ensure smooth flow of passengers, especially on staircases and foot over bridges.
11:37 AM
Traffic jam reported from Sion area. (ANI photo)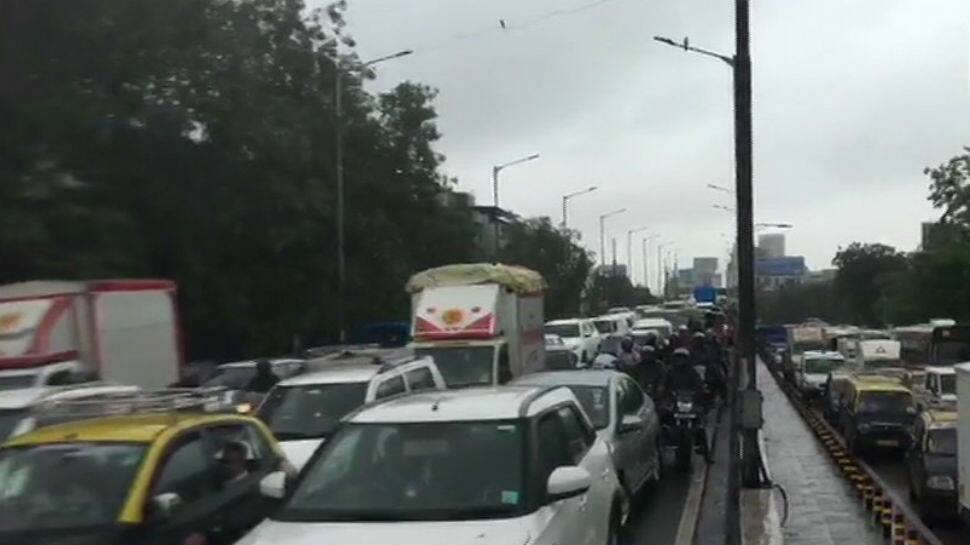 11:35 AM
Slow lines at Marine Lines Station has been restored completely, reports Western Railway.
11:35 AM
Massive traffic jam reported from Wadala due to waterlogging. Commuters are advised to take alernate routes.
10:12 AM
All lines on Central Railway main line are operational now. However, due to bunching of trains, the bunched locals are being gradually cleared.
-- Central Railway CPRO
09:49 AM
IMD Mumbai says intense spell of rainfall likely to continue in the city over the next two hours.
09:32 AM
92.9 mm rainfall recorded at Santacruz Observatory in 24 hours leading up to 7 am today.
78.5 mm recorded at Colaba Observatory in the same time period.
09:23 AM
Passengers can contact railway officials on the following numbers for any enquiries:
These are help desk numbers for Passenger enquiry due to waterlogging at Palghar station. @WesternRly pic.twitter.com/XyqXmexawB

— DRM WR MumbaiCentral (@drmbct) July 1, 2019
09:17 AM
Traffic of Gandhi Market diverted from Bhau Daji Road and Sulochana Shetty Road & National College, informs Mumbai Police.
09:07 AM
High tide predicted at 11:11 am. Locals have been advised to avoid beaches around this time.
09:02 AM
This is how streets in Chembur look right now:
(ANI Photo)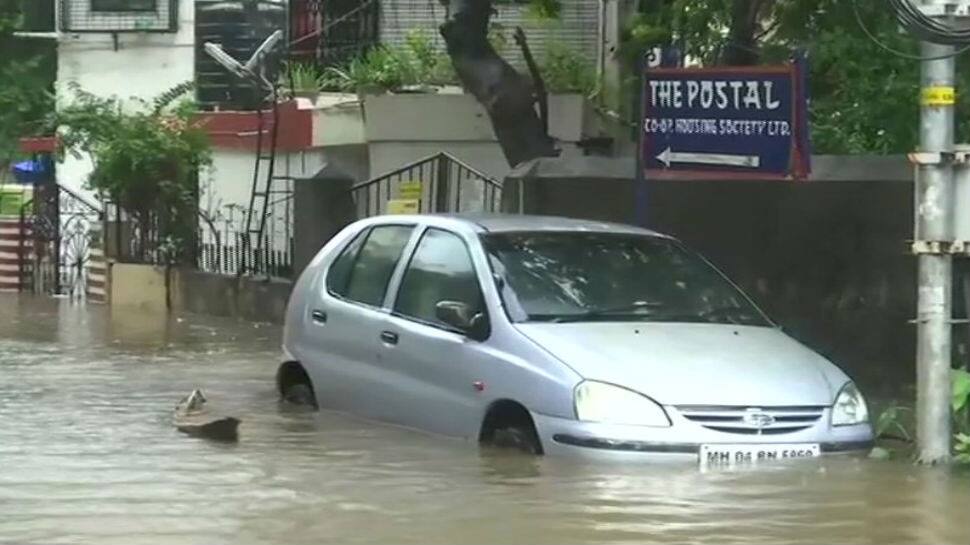 09:01 AM
Western Railway informs that as many as 13 trains were cancelled at Palghar today. Train movement was restarted at 08:05 but at restricted speeds of 30kmph.
The cancelled trains are as follows:
1. 12935 - Bandra Terminus - Surat
2. 69139 - Borivali - Surat
3. 61002/61001 - Vasai Road - Boisar - Vasai Road is cancelled b. 
4. Bandra Terminus - Jaipur cancelled between Bandra Terminus - Sanjan
5. 09070 - Valsad - Vapi is cancelled.
6. 09069 - Vapi - Surat is cancelled.
7. 69174 - Dahanu Road - Borivali is cancelled.
8. 93002 - Dahanu Road - Borivali cancelled.
9. 12922 - Surat - Mumbai Central terminated at Navsari.
10. 19004 - Bhusaval - Bandra Terminus is terminated at Boisar.
11. 59038 - Surat - Virar is terminated at Bilimoria.
12. 59024 - Valsad - Mumbai Central terminated at Udvada.
13. 19023 Mumbai Central - Firozpur Janata Express
08:50 AM
Railway tracks submerged between Sion railway station and Matunga railway station. (Photo: ANI)
08:42 AM
Important information for passengers on trains in Mumbai-Valsad-Surat section:
1/2 Psngrs to pls note that in view of cancellation of some trains in Mumbai-Valsad-Surat section due to water logging in Palghar following heavy rains, 14707 Bikaner-Bandra T Exp will halt at all stations between Surat-mumbai where 12922 Flying Rani stops. @drmbct @RailMinIndia

— Western Railway (@WesternRly) July 1, 2019
08:41 AM
Waterlogging reported at SV Road, Bandra West. Traffic being diverted away from here.
08:39 AM
Trains between Churchgate and Marine Lines have been halted after materials from a construction site fell on the tracks due to the prevailing windy conditions, informs Western Railway. Restoration work has begun.
08:31 AM
Tree falls on track between Khopoli and Karjan stations. Trains coming from Khapoli have been stopped.
08:30 AM
Western Railway informs there has been waterlogging on tracks at Palghar in Mumbai Division. Trains originating or passing through here have been regulated. It further says that 361mm rainfall has been recorded overnight and 100mm between just 0400hrs and 0500hrs in Palghar.
Mumbai-Ahmedabad Shatabdi Express has been diverted.
08:30 AM
Waterlogging is affecting train traffic in Mumbai. Several trains have been rescheduled:
Due to water logging at PLG following trains are Resch. as on Dt. 01-07-19.
Train 19023 MMCT-FZR Sch. Dep. @ 7.25hrs. is Resch. Dep. @ 8.25hrs.
Train 19015 MMCT-PBR Sch. Dep. @ 8.20hrs. is Resch. Dep. @ 9.20hrs.
Train 12471 BDTS-SVDK Sch. Dep. @ 7.55hrs. is Resch. Dep. @ 8.55hrs

— DRM WR MumbaiCentral (@drmbct) July 1, 2019
08:29 AM
Private weather monitoring agency Skymet reports rains could persist for the next several hours:
#MumbaiRains: Cloud cover is there, you can expect these #rains to continue for 2-3 hours. There may be a break in between but on and off scattered rains will continue. #MumbaiRain will get heavy again on the night of July 3.

— SkymetWeather (@SkymetWeather) July 1, 2019
08:28 AM
It has been raining cats and dogs since the wee hours of Monday. Several places in Mumbai have witnessed incessant rains and dark clouds hovering over the city's skyline promise more rainfall.