Mumbai: Markets ended flat on Friday amidst  last hour buying spree in IT and healthcare counters. IT bellwether TCS jumped 2.75 percent after the company's board approved a Rs 16,000-crore share buyback plan.
The 30-share Sensex, closed at 35,622.14 -- a marginal rise of 22.32 points, or 0.06 percent. Similarly the NSE Nifty which dipped below the key 10,800-mark to touch a low of 10,755.40, bounced back on late buying to close 9.65 points, or 0.09 percent higher at 10,817.70.
The top gainers on the Sensex were Dr Reddy's Lab, Infosys, Tata Consultancy Services (TCS), Sun Pharma, Reliance, Kotak Bank, Hindustan Unilever, Bharti Airtel, HeroMoto Corp, Wipro, HDFC, IndusInd Bank, gaining upto 3.65 percent.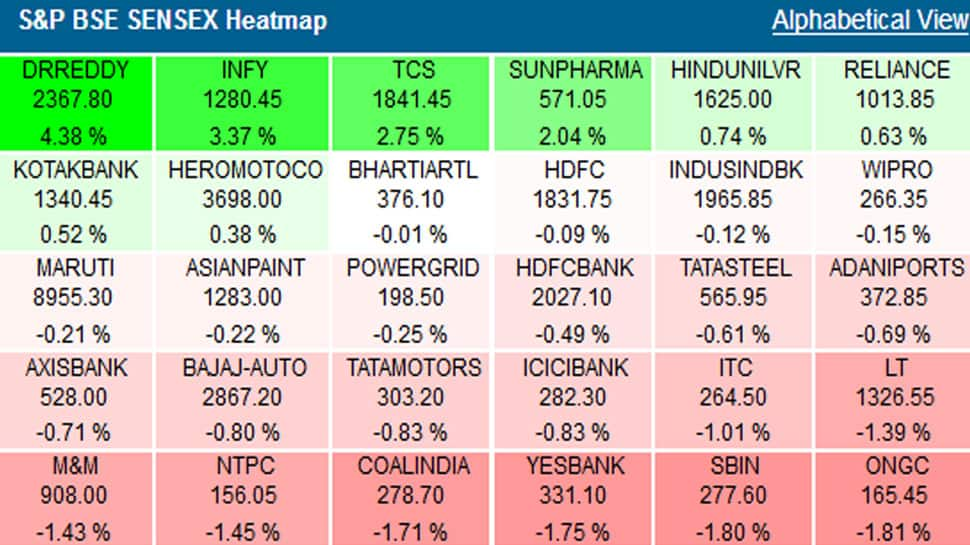 The Sensex touched a high of 35,675.20 points and a low of 35,419.68 points. The BSE market breadth was bearish with 1,513 declines and 1,097 advances.
On the NSE, Infosys, Dr Reddy's Lab and Cipla were the highest gainers while Hindalco Industries, Indian Oil Corp and UltraTech Cement lost the most.
Stock of Dr Reddy's jumped 3.65 percent on Friday, its last trading day on Sensex. Dr Reddy's will no longer be a part of Sensex as the index will see a reshuffle with effect from Monday.
Dr Reddy's Shares jumped 3.65 percent to Rs 2351.10 a piece on BSE. Shares registered a high of 2382.20 and 2290.00 during intra day trading.
Meanwhile, domestic institutional investors (DIIs) bought shares worth Rs 576.19 crore, while foreign portfolio investors (FPIs) sold equities worth Rs 1,372.84 crore yestrerday, as per provisional data.
With PTI Inputs