BEIJING: An explosion was reported near the Indian Embassy in the Chinese capital Beijing on Thursday. However, no casualties were reported due to the incident.
The United States Embassy is also located close to the site of the blast.
''It was a low-intensity blast close to the Indian Embassy,'' a source told ANI.
China: Visuals from outside the US Embassy in #Beijing where a blast has occurred. pic.twitter.com/yypYcbwOUs

— ANI (@ANI) July 26, 2018
ANI also posted a video of the blast in Beijing which shows several people running helter-skelter soon after the explosion.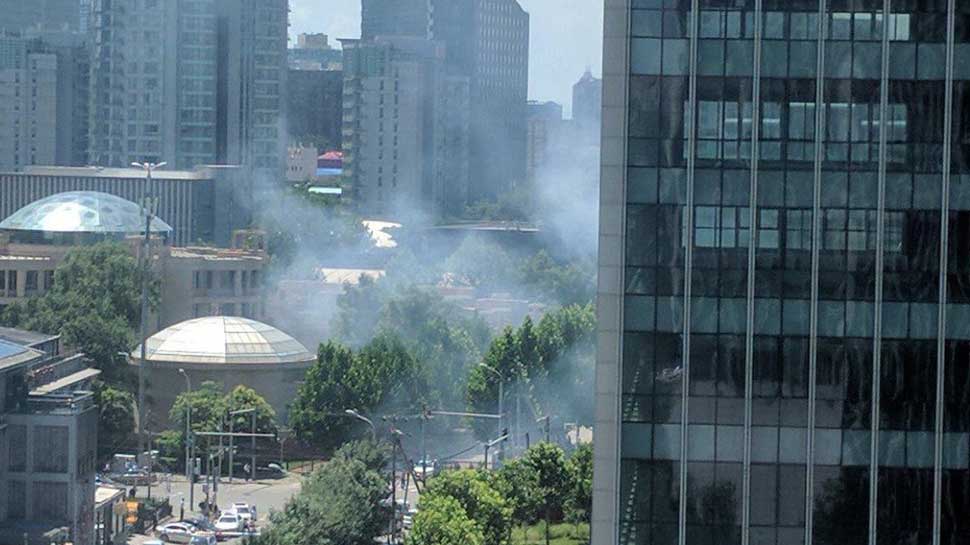 A thick layer of smoke can also be seen rising up in the air after the blast, in the video. 
#WATCH Visuals from outside the US Embassy in #Beijing soon after the blast. #China pic.twitter.com/fP6mZZpk7m

— ANI (@ANI) July 26, 2018
Though there are no reports of fatalities at the moment, the visuals of the incident shared by some people on social media show cops and, possibly, a body covered by a blanket, lying on the ground.
According to Radio Free Asia online news, a man attempted to throw a homemade bomb into the gated compound of the embassy, but the device went off earlier than planned.
The blast caused panic and injured a number of people, the news portal said. 
Amid reports of the blast, China's state-run Global Times cited witnesses claiming that a woman sprayed gasoline on herself in a suspected self-immolation attempt.
Police took her away, but it is not yet clear if the incident is related to the suspected explosion, according to the Global Times. 
The Beijing Police also took control of a vehicle parked outside the US Embassy in connection with the blast, according to Reuters.  
Reuters cited Chinese police officials as claiming that a "firework device" caused the explosion near the US embassy in Beijing, wounding a 26-year-old male suspect and no one else.
The US Embassy, in a separate statement, described the device as a bomb.
It said the police had responded but did not offer further details. Police, on its part, said only the suspect was wounded, suffering an injury to his hand.
This was possibly the first blast in China since August 2015.