Mubarakan movie review: Anil Kapoor shines bright in this hilarious no-brainer from Anees Bazmee
With Arjun Kapoor and Anil Kapoor starrer 'Mubarakan', the hit director has tried to take the streak forward. But, was his attempt successful? Let's find out!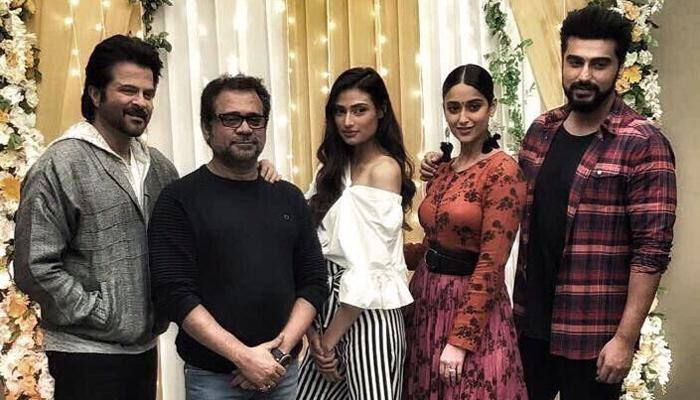 New Delhi: By delivering blockbusters like 'No Entry', 'Welcome' and 'Singh Is Kinng', filmmaker Anees Bazmee successfully established himself as one of the finest comedy flick directors in Bollywood. And, with Arjun Kapoor and Anil Kapoor starrer 'Mubarakan', the hit director has tried to take the streak forward. But, was his attempt successful? Let's find out!
'Mubarakan' showcases story of a dysfunctional Punjabi family that is trying hard to get their youngest members Karanveer Singh and Charanveer Singh (both played by Arjun) married, while uncle Kartar Singh (essayed by Anil) emerges as saviour who tries to sort things out for his nephews. Ileana D'Cruz, Athiya Shetty and Neha Sharma play the love interests of Karan and Charan. Confused already? Well, more uncertainty, madness, and chaos take over as the storyline progresses.
The film is definitely high on humour. But, the comedy spills and bits and pieces. You will surely feel that there is a lack of consistency from the director. However, when the homour strikes, it is powerful enough to make you forget everything and leave you in splits. In the first-half of the movie, Arjun tries to flaunt Punjabi and firangi swag by portraying two different characters. Sadly, somewhere down the line, you will start feeling that the 32-year-old star is trying too hard and failing to yield the results.
Anil is the one who steals the show throughout the script. Even at the age of 60, his on-screen performance is powerful enough to give actors, who are half his age, a tough run for their money. The inner Punjabiness comes naturally to him. Don't be surprised if the viewers connect with him the most. After all, people like Kartar are the ones who you will find at every big fat Indian wedding.
If the casting is to be talked about, we can very well say that all the actors in the flick have done their job brilliantly. Ileana has shined brightly among other divas. Ratna Pathak and Pavan Malhotra have emerged as surprise packages with exceptional performances. The only weak link, in terms of acting in 'Mubarakan', is Arjun.
In terms of production, the film will take you to some good locations in Punjab and London. Also, it will give an apt feel of a wedding atmosphere. The screenplay has an on and off impact but it will give you a lot of LOL moments during the entire screen time. The story is predictable as well as confusing which adds to the entertainment quotient.
The music of 'Mubarakan' is also one of the strong positives which will help in increasing theatre footfall.
In the end, we would just like to say that 'Mubarakan' will not be considered amongst the bests of Anees but it is definitely a good family entertainer. So, if you are planning to have a good time this weekend go for 'Mubarakan'.
Rating: 2.5 stars
Live Tv