Mumbai: The cast and crew of Padmavati – starring Deepika Padukone, Shahid Kapoor and Ranveer Singh – wouldn't have fathomed the kind of flak their film would draw ahead of release owing to its historical content. And filmmaker Sanjay Leela Bhansali, who addressed protestors through a video message to put all speculations to rest, a few days back, is still a recipient of the wrath of several Rajput organisations.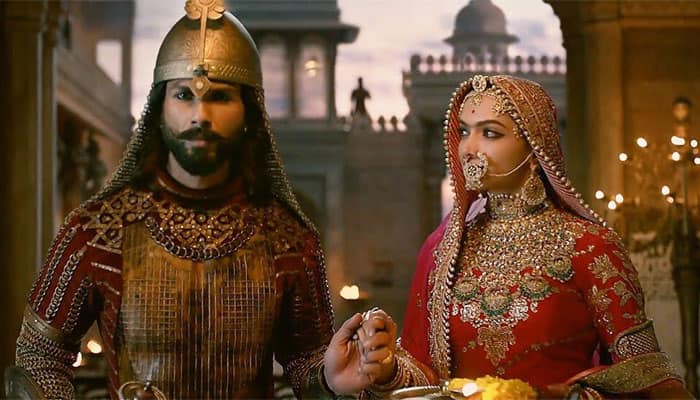 What is the hullabaloo all about?
Soon after the film went on floors last year, there were reports suggesting that the film has a dream sequence featuring Ranveer Singh (who plays Alauddin Khilji) and Deepika Padukone( who essays Rani Padmavati). Rajput organisations believe that Bhansali has distorted/misrepresented historical facts to suit his narrative. Protestors fear that Bhansali might have portrayed Rajput ruler Maharawal Ratan Singh (played by Shahid Kapoor) as a weak personality, reports suggest.
Angry mob vandalises film sets/ destroys rangoli inspired by film poster and stages protests
Angry mob vandalised the sets of the film on a couple of occasions in the past and even destroyed an artiste's Rangoli inspired by the film poster at a mall in Gujarat a few days back. Protests against the film have spread to different parts of the country now.
Film's fate hangs on a tightrope
There are reports suggesting that Bhansali has given in to the pressure exerted by Rajput groups and agreed to screen the film for them. However, a number of groups, including Karni Sena and Jai Rajputana Sangh have threatened to stall film's release if it isn't shown to representatives of their community.
What have real-life royals said about the film?
Heena Singh Judeo, daughter-in-law of Dilip Singh Judeo of Chhattisgarh's erstwhile royal family said: "Our only demand is that the filmmaker should show us what the movie is, because it is related to the history."
"History has witnessed that none of the Rajput maharanis has ever danced in front of anyone, and they cannot play with history," she said, indicating the Ghoomar song which features the film's lead actress Deepika Padukone.
The royal said filmmakers must respect Rani Padmavati "who did Jauhar (self-immolation) with 16,000 ladies, and who gave her life for Rajputana and Hindutva, but they are showing it in another way.
"We are just saying that we should know what they have given in the movie exactly," Heena said, stressing that Rani Padmavati was like a "mentor to Rajputana ladies".
Baijiraj Trivikrama Kumari Jamwal, daughter of Mahendra Singh Mewar -- the 76th Maharana of the Mewar dynasty and a former Lok Sabha member, said, "The sad part is that the film is getting free pre-release publicity, and that a commercial and inauthentic venture like this is using my family's name. It's not just a question of incorrect portrayal, which is established from the trailer and the 'Ghoomar' song itself, but also the fact that you're using my family's name for the commercial pre-release publicity of your film, free of cost... And the national media is talking about it. That's my problem."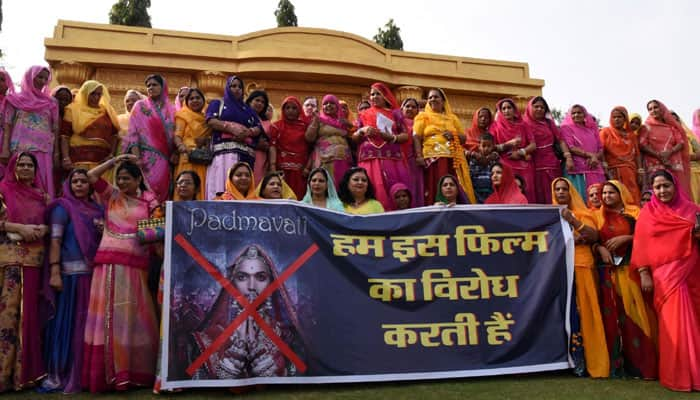 Bollywood extends support to Bhansali
"The entire film industry should boycott the IFFI next month in Goa in protest against the threats issued to Padmavati, Sanjay Leela Bhansali and Deepika Padukone," veteran actor Shabana Azmi said.
Salman Khan, who has worked with Bhansali thrice, extended support to him. He said, "I want to say that you have Censor Board, they will take a decision. Sanjay (Leela Bhansali) makes very beautiful and excellent films."
Besides Salman, the main Padmavati cast – Ranveer, Shahid and Deepika have stood by the side of their director through thick and thin. A number of the actors have come out in support of SLB.
The Indian Film and TV Directors' Association too had called for a meeting to condemn protests and show solidarity with Bhansali.
Film release might be delayed
Padmavati, slated to hit the silverscreen on December 1 will not release as per schedule. The release of the film has been postponed and the makers haven't yet announced the new release date. 
(With IANS inputs)