Pathaan Fever! Shah Rukh Khan- Deepika Padukone's Action Entertainer Breaks Record on Day 1; Fans Can't Stop Grooving to the Actress' Besharam Rang
Shah Rukh Khan's Pathaan collected Rs 57 Cr on its first day in India. Fans in cinema halls could not stop grooving to Deepika Padukone's Besharam Rang.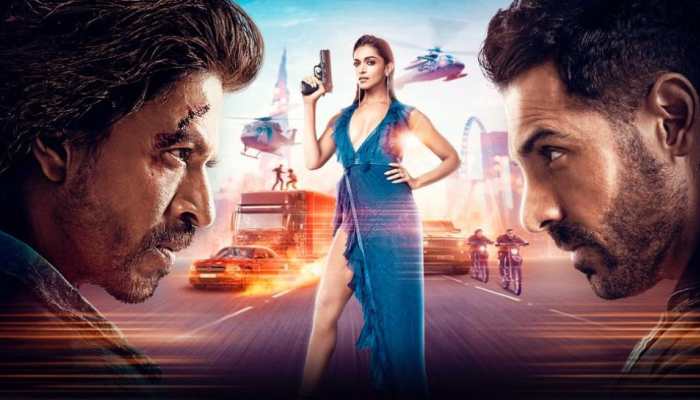 New Delhi: The 'Pathaan' fever has hit the nation and it is all anyone can talk about! After much anticipation, the action-entertainer has finally hit silver screens and has broken all records at the box office.
With theatres going housefull, fans can't stop whistling to Deepika Padukone's 'Besharam Rang' and Shah Rukh Khan's return to the screens. While Deepika impressed audiences with her uninhibited moves, hot and exotic looks, high octane action looking every bit like an ethereal goddess in every frame, Shah Rukh Khan's return to the screen was praised as he stepped into a suave action-hero's shoes with effortless ease and style.
The duo that has always hit hold at the box office with every collaboration and even today, they continue their dream run with Rs 57 Cr all India day 1 collection and movie-goers were all praise for the electric onscreen chemistry they shared in the big-ticket entertainer.
'PATHAAN' CREATES HISTORY, BIGGEST DAY 1 TOTAL… #Pathaan is now BIGGEST OPENER [#Hindi films] in #India… *Day 1* biz…
#Pathaan: 55 cr [Non-holiday]
#KGF2 #Hindi: ₹ 53.95 cr
#War: ₹ 51.60 cr
#TOH: ₹ 50.75 cr
Nett BOC. #India biz. pic.twitter.com/y2c5F0ySN0 — taran adarsh (@taran_adarsh) January 26, 2023
Apart from the fantastic performances, next-level action sequences and gripping storyline peppered with surprising twists, another factor that had audiences clamoring at theatres was Pathaan's music.
दीपिका पादुकोण का जादू सर चढ़ कर बोला है #पठान_मूवी में।
जैसे ही दीपिका बेशर्म रंग गाने में स्क्रीन पर आयी तो सब लोगों ने सर्दी में भी कपडे उतारकर डांस किया सिनेमा हॉल में।

ऐसा आखिरी बार हॉल में कब हुआ था मुझे याद नहीं। #PathaanFirstDayFirstShow pic.twitter.com/jq4PYuuCin

— (@GDnarbhakshi) January 25, 2023
While 'Besharam Rang' and 'Jhoome Jo Pathaan' have been dominating airwaves, it offered audiences an entirely absorbing and immersive experience in theatre halls, from dancing, to hooting, to whistling, as Deepika Padukone's unabashed and carefree moves coupled with her stunning looks didn't let you take your eyes off her! King Khan on the other hand with his intensity, charisma and wit added to the roaring applause.
Live Tv