The Palm Edition 999 is the latest creation to roll out of the doors of German customization company Mansory and one, its creators claim, that redefines the boundaries of automotive opulence.
The car, which started out life as a 'standard' Rolls-Royce Wraith, has been dubbed the Palm Edition 999 for two reasons. The first is a reference to 999 pure gold; and the second is to the number of completely bespoke Wraiths the company intends to build based on this golden theme -- just nine.
This exclusivity is why Mansory is holding nothing back in terms of customization. The exterior boasts a two-tone white and gold paint finish and each of the badges has been recreated in a 999 pure gold finish.
The body is noticeably different too. It has been aerodynamically overhauled with new front and rear spoilers and aprons and side skirts in Mansory's customary carbon fiber. What's more, any of the nine potential owners can also specify any metallic exterior fitting, from the door handles to the radiator grille and even the Sprit of Ecstasy itself, plated in 999 pure gold.
The changes are much more than cosmetic. The Wraith is the most potent Rolls-Royce currently on general sale, but Mansory has upped the car's output of 632PS to 740PS, which in turn means that despite dripping in gold, this car is capable of accelerating from 0-100km/h in 4.4 seconds and onto a top speed of 300km/h.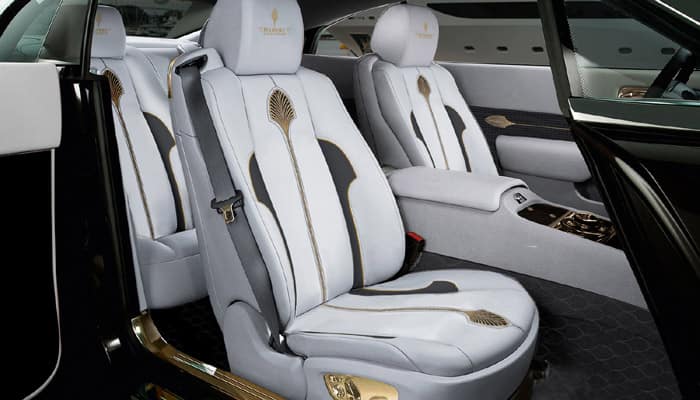 Inside the gold theme and the pure gold continue in abundance. The premium leather's tone matches the exterior paintwork with gold colored embroidery while several cockpit elements have been recast in pure gold.
It's not clear how positively the Rolls-Royce design department will respond to Mansory's latest creation, but it will certainly pique the interest of the super-rich driver that has everything except a Wraith that looks significantly different from that of his or her neighbor.
After all, the German car customization business exists to provide services mainstream super sports and super luxury carmakers can't or won't offer.