Zee Media Bureau
New Delhi: The government has eased the Central Civil Services (Leave Travel concession) Rules, 1988 — Fulfillment of Procedural requirements.
To remove these bottlenecks, government has decided to simplify the procedure  of application and make the procedure of processing of LTC claims time bound.
Here's all you need to know about the new LTC rules.
1. The  following time-limits shall be followed while processing the LTC applications/claims of the Government servants.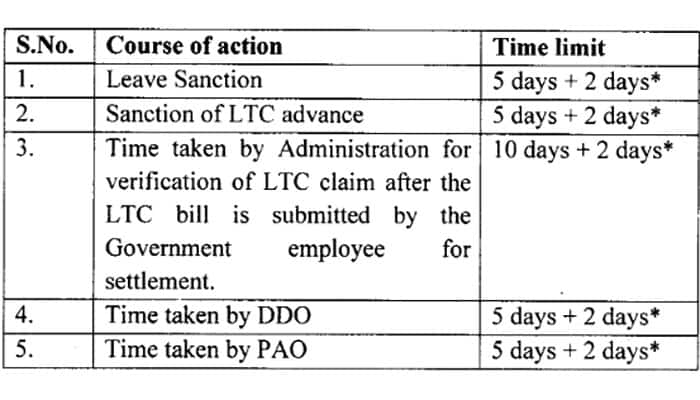 Leave Sanction: 5 days + 2 days
Sanction of LTC advance: 5 days + 2 days
Time taken by Administration for verification of LTC claim after the LTC bill is submitted by the Government employee for settlement: 10 days + 2 days
Time taken by DDO: 5 days + 2 days
Time taken by PAO: 5 days + 2 days
2. It must be noted that in cases where the place of posting of the Government employees is away from their Headquarters, additional 2 days transit-time may be allowed. The person proceeds on LTC after S.No.1 and 2 i.e. after ten days of applying LTC.
3. The Leave Sanctioning Authority shall obtain a self-certification from the employee regarding the proposed LTC journey.
4. Whenever a Government servant applies for LTC, he/she may be provided with a copy of the guidelines (enclosed) which needs to be followed while availing LTC.
5. Employees may be encouraged to share interesting insights and pictures, if any, of the destination he/she visited while availing LTC on an appropriate forum.