Chhattisgarh BJP website hacked, Pakistani hackers post message threatening serial blast in India
A police complaint has been filed by the Chhattisgarh BJP in this connection.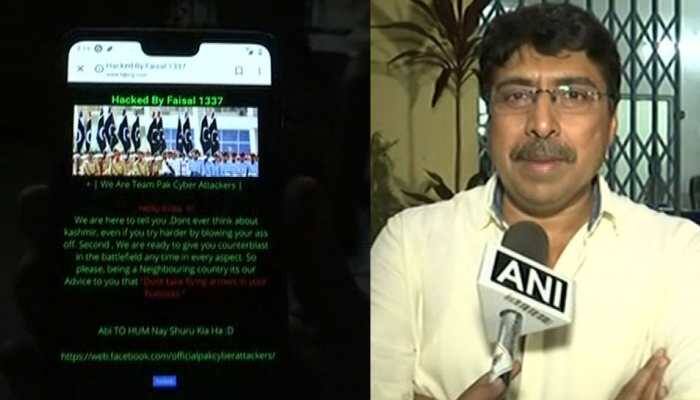 RAIPUR: In yet another incident of cyber attack, the official website of Chhattisgarh unit of BJP was allegedly hacked by Pakistan hackers, reports said on Thursday.
The hackers claimed that they belong to Pakistan.
A message posted on the website read, "We are Pakistan Cyber Attackers."
Chhattisgarh: BJP state website hacked by Pakistani hackers. D Mashke, state BJP IT cell head says, "More than 100 websites were hacked in a cyber-attack, our website was one of them. We've registered a complaint. They can't take us head on, that's why they resort to such things" pic.twitter.com/hb7J1xSzOI — ANI (@ANI) 21 February 2019
The hackers threatened of a serial blast and attached photographs of Pakistan flag and their Army on the hacked website.
A message posted on the website read, "Don't even think about getting hold of Kashmir."
Sharing more details of the incident, D Mashke, Chhattisgarh BJP IT Cell head, said, "More than 100 websites were hacked in a cyber attack. Our website was one of them.''
The BJP leader said that they have registered a complaint in this regard.
''They can't take us head on and that's why they resort to such things," he added.
Following the cyber attack, the BJP website was inaccessible for some time.
ANI also reported that a website belonging to Union Minister Mukhtar Abbas Naqvi was also hacked by unidentified Pakistani hackers.
''The country whose mind has been hacked by terrorists will only indulge in this. They have been exposed and isolated globally hence such antics,'' Naqvi told ANI.
However, this is not the first time that Indian websites have been hacked by foreign attackers.
A website of BJP's Goa unit was recently hacked by unknown persons, who posted "Pakistan Zindabad" message on it.
The identity of the group which carried out the cyber attack ''Team Pak Cyber Experts,''and an individual's name "Mohammad Bilal" was also posted on the web page, after it was hacked.
A Pakistani hacker going by the online handle "Muhammad Bilal," who is also a member of ''Team Pak Cyber Experts,'' had recently hacked the official website of BJP veteran LK Advani.
It may be recalled that anti-Pakistan sentiments are high these days in the wake of a deadly suicide attack on the CRPF convoy in J&K's Pulwama in which at least 40 troopers were killed and several others injured.
Hundreds of people have taken to streets and protested against the killing of CRPF jawans in Pulwama by Pakistan-backed terrorist outfit Jaish-e-Mohammed.
Several countries across the globe had strongly condemned the Pulwama attack and pledged support to India in dealing with terrorism.
India has also warned Pakistan in the backdrop of the Pulwama attack and initiated efforts to isolate the hostile neighbouring country for providing covert support to terrorism.