New Delhi: Reliance Jio has extended the date of it's 'more than 100 percent cashback' offer till March 31, 2018. Earlier, the last date was March 15.
Customers have been offered upto Rs 700 cashback as part of this offer. If a user recharges more than Rs 398 or more than that, then he will be given Rs 400 cashback. Also, Rs 300 cashback will be given in the wallet. 
The voucher that will be given as part of cashback offer to the user will be worth Rs 50. The user will get eight such vouchers, amounting to Rs 400.  They can also avail the benefits of this offer by recharging through the Jio app.  
Mobikwik, Paytm, Amazon Pay, Freecharge and Phonepe are some of the wallets on which the offer is being given. While on Mobikwik you can get Rs 300 cashback, on Paytm you can Rs 50 cashback.  
As per an official statement by Jio - "100% cashback vouchers (Rs. 50*8) will be credited in your MyJio app. Upto Rs. 300 cashback is applicable only if the recharge is done from selected wallets. This will be credited in the respective wallet (TPA App/website). If you have purchased a voucher (Plan MRP 398 or above) via MyJio App during the offer period, then the cashback voucher (Rs. 50*8) will only be credited once the voucher is redeemed. The voucher can be redeemed till 31st Oct 2019."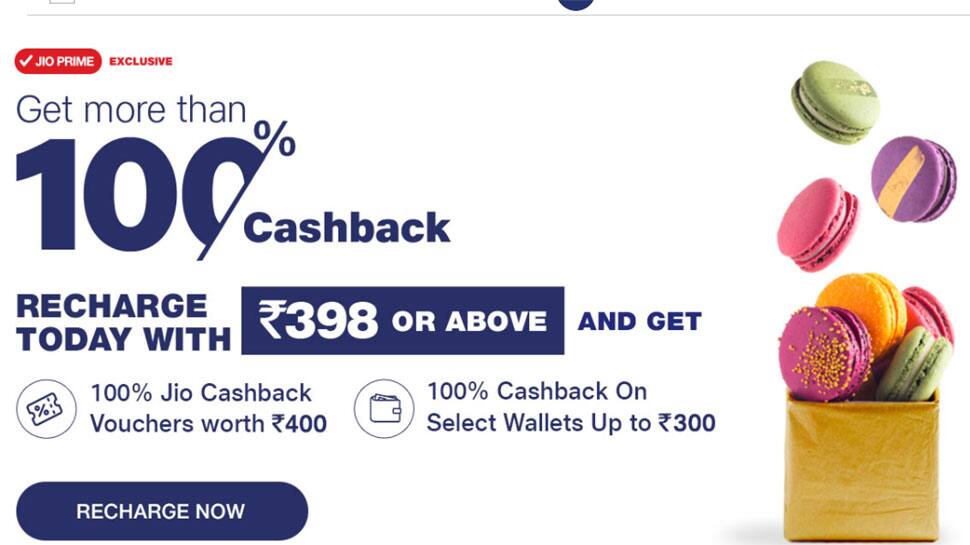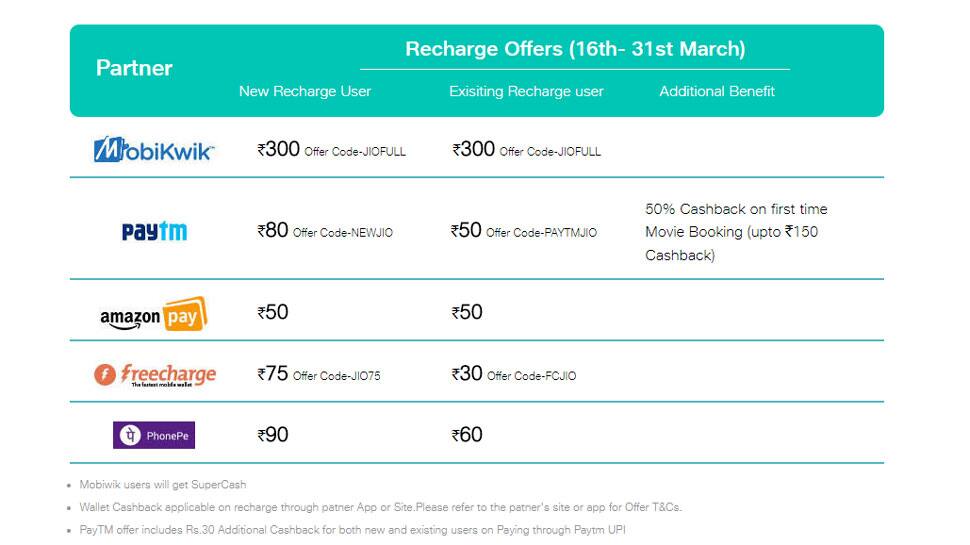 Meanwhile, in its bid to rival Jio's Rs 498 offer, Airtel has come up with a new plan offering unlimited calls, 40GB 3G/4G internet to subscribers at Rs 499.
In Airtel's Rs 499 postpaid plan, the company is offering 40GB data in the 3G/4G internet for a validity period of one month. The package also provides unlimited local, STD, incoming roaming and outgoing roaming calls. Apart from this, it also gives additional benefits like 1-year Amazon Prime subscription and access to Wynk music, Live TV and handset damage protection.
Large operators have been flagging pressure on revenue and profitability, blaming the rock-bottom data tariffs and free offerings of newcomer Reliance Jio for deteriorating financial health of the sector.
While on one hand Reliance Jio accuses incumbent operators of milking the sector using borrowed money, older players like Airtel, Vodafone and Idea blame free voice and data offering by the Mukesh Ambani firm for bleeding the sector.
Notably, last month, Trai said it will impose financial disincentive of up to Rs 50 lakh per circle on operators if their service rates are found to be predatory in nature.
A tariff will be considered predatory if, in a relevant market, a telecom operator with over 30 percent market share offers services at a price which is below the average variable cost, with a view to reducing competition or eliminating the competitors in the relevant market.
The regulator has also said that telecom operators will have to provide services to all subscribers availing the same tariff plan in a non-discriminatory manner.
(With Agency inputs)