Zee Media Bureau/Smriti Srivastava
Who is Vijaypat Singhania?
Vijaypat Singhania was the chairman emeritus of the Raymond Group of clothing and textiles and a former Sheriff of Mumbai, from 19 December 2005 to 18 December 2006.
Achivements
Vijaypat Singhania, an ambitious aviator, holds the world record for highest altitude gained travelling in a hot air balloon, at the age of 67.


 

He also holds a world record for his solo microlight flight in 1998 from UK to India.


 

He has flight experience of over 5,000 hours.


 

In 1994, Singhania won the gold medal in the Fédération Aéronautique Internationale air race covering a distance of 34,000 km spanning 24 days.


 

He was conferred the rank of Hon. Air Commodore of the Indian Air Force, to mark this occassion.


 

In 2005, Singhania was awarded the Gold Medal of the Royal Aero Club, and in 2006, the Padma Bhushan by the Government of India.


 

He is also the author of a book called 'An Angel in the Cockpit' accounting his journey from the UK to India on a microlight aircraft in 1988.


 

In March 2007, he was nominated to be Chairman of the Governing Council, IIM Ahmedabad.
Family background
Vijaypat Singhania, son of Lala Kailashpat Singhania (significant part of JK organisation) has two sons- Madhupati Singhania is the eldest and Gautam Hari Singhania is the youngest. Have a look at the pictorial representation below to understand the Singhania family tree better: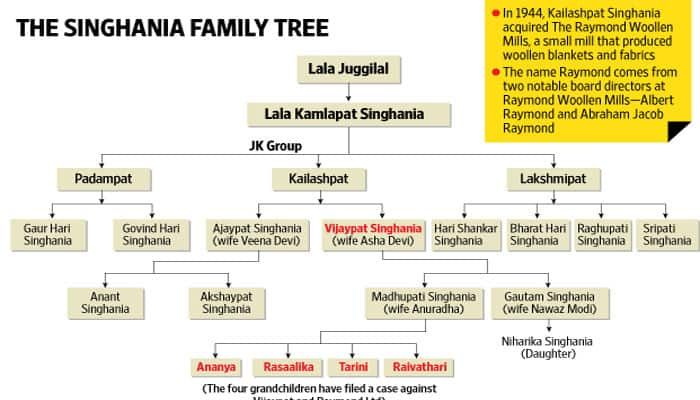 Graphics credit: @livemint
Singhania Vs Singhania- Rivalry
Madhupati Singhania, the eldest son of the tycoon, in 1998 suspended bond with his family. He moved to Singapore leaving his ancestral house in Mumbai, along with his wife and four children.
Before this, 56 years old Madhupati participated into a Family Agreement according to which he abandoned his rights as well as his children to the family property. As soon as, he made his exit, Gautam Hari Singhania was elevated to the designation of managing director of Raymond.
Recent controversy
The man who invested his sweat in Raymond Ltd and made it India's largest clothing brand, is in trouble now. By his own admisison, one of the country's richest men, is leading a hand-to-mouth life at present. Singhania who now resides in rented row house in south Mumbai's upscale Grand Paradi society blames his son Gautam for his pathetic financial condition.
Three days back, the senior Singhania had petitioned Bombay High Court seeking possession of a duplex in the redeveloped 36-storey J K House on Malabar Hill.
The court was informed about his miserable financial condition as well. Vijaypat's lawyer told the court that 78-year-old business tycoon's son drove him away from the scene after he gave away all his wealth to him. The court was informed that Singhania gave up all his shares in the company worth around Rs 1000 crore in his son's favour.