'At 38, Cristiano Ronaldo is...': Virat Kohli slams Al-Nassr striker's critics in strongly-worded note, Read Here
Checkout Virat Kohli's savage post for Cristiano Ronaldo's critics after the PSG vs Riyadh XI friendly clash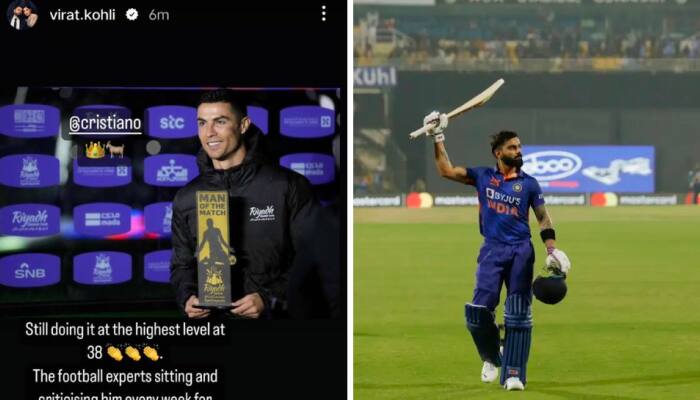 Team India superstar Virat Kohli had a message for Cristiano Ronaldo's critics following the Portuguese icon's eye-catching performance in the PSG vs Riyadh XI friendly clash. Ronaldo took on Lionel Messi's Paris Saint-Germain on Thursday (January 19).
"still doing it at the highest level at 38. The football experts sitting and criticising him every week for attention and to be in the news are conveniently quiet now that he's put in this kind of performance against one of the top clubs in the world. And he was apparetly finished," wrote Kohli on his Instagram story.
Checkout Kohli's Instagram story for Ronaldo here...
Virat Kohli's latest Instagram story on Cristiano Ronaldo. pic.twitter.com/YB8tijzfJU — CricketMAN2 (@ImTanujSingh) January 20, 2023
Ronaldo recently posted an emotional message following Portugal's exit from the FIFA World Cup. The 37-year-old left the field in tears after Morocco defeated his team 1-0. Later, he said in a statement on Instagram that "the biggest and most ambitious dream" of his career had "ended". Ronaldo has been getting a lot of negative comments on his recent performances in the Premier League following his exit from Manchester United. The superstar received a lot of criticism for his interview with Piers Morgan as well.
Coming to Kohli, the star India batter is set to take part in the second ODI match between India and New Zealand on Saturday (January 21). In the first match, Shubman Gill, scored a scintillating double century, had singlehandedly taken India to a competitive total with the others falling by the wayside. Virat Kohli's individual effort had stood out in the previous game against Sri Lanka.
Hardik Pandya, who has not been at his belligerent best of late, will be expected to give final flourish to the innings. Accommodated in the middle-order following his double hundred performance in Bangladesh, Ishan Kishan would be itching to make the most of the opportunity after an off-day in Hyderabad. Skipper Rohit Sharma has looked good and got starts but has not been able to convert, and Saturday could his day. (With PTI inputs)