New Delhi: Cheteshwar Pujara is an extremely hard-working fellow. Rarely will there be a phase in his life when he is not working to better himself at batting, primarily for the longer format. Pujara enjoying or celebrating is as scarce as a famine and such moments are few and far in between. Off India's Test duty, a format he owns, or as the 'perception' goes, the Saurashtra lad is usually found in either Rajkot practicing with his father Arvind Pujara or checking out the level of County cricket in England.
Saying this, that is not all regarding Pujara. He comes across as a calm and soft-spoken bloke but it will be wrong to concede that he doesn't take things to heart. He doesn't believe in betraying his emotions but loves to prove himself by working doubly hard. So as the perception goes that Pujara isn't cut out for the shorter formats, he doesn't pay any heed to the opinion and is focused on raising his short-format game to the requisite.
Finding no takers in the 2018 IPL auction in January, Pujara could have easily gone back and practiced in his backyard in Rajkot for one of the most difficult assignments – the tour of England. But instead, he is leading the Saurashtra squad in the Vijay Hazare Trophy with an aim to work on his one-day or even T20 game. Yes, Pujara will travel to England much before the Indian team reaches as he has penned a contract with Yorkshire for the County Championships. While that is still some distance away, for now, it is all about proving himself and adding fancy strokes to his repertoire.
And with this, Pujara confidently avers his limited-overs career is certainly not over and his opportunity will come.
"Perception, I would say, has played a major role. If you check my performance in List A (average of 58 plus over 88 games) and T20s (strike rate of 105.18 in 58 games), I still have a lot to offer in the shorter formats. I am not at all worried as I know my opportunity would come at some point in time," Pujara said.
For the record, the 30-year-old has played seven matches and has totalled 272 runs averaging a healthy 54.40, including one fifty; however, his strike rate has been under 70, which tells the entire story.
Usually, strike rate makes sense in T20 format but Pujara's has ranged from 60-65 at situations, where, alongside ensuring a platform, one needs to keep the scorecard ticking. That could be a reason behind Saurashtra's loss to J&K when he batted with a strike rate of 42.18 and the side could only reach 267.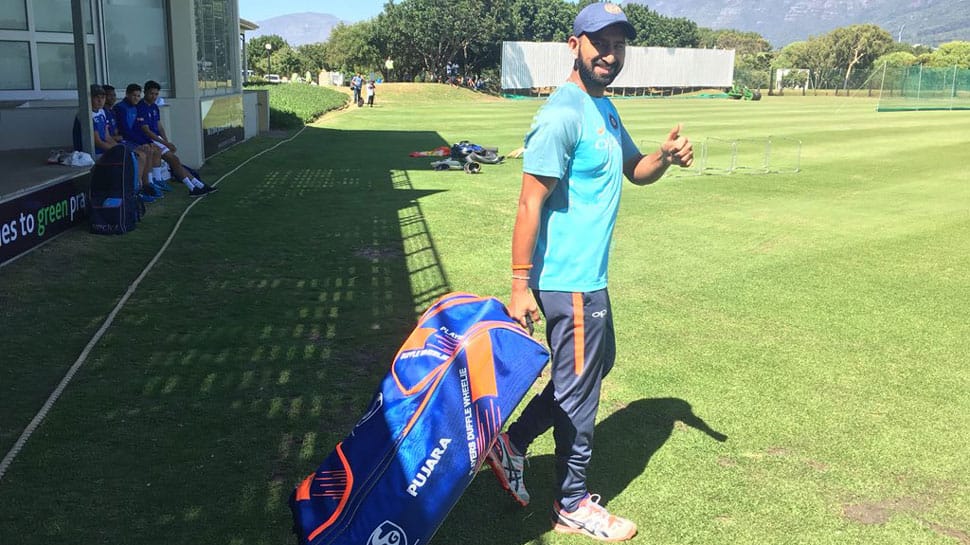 Pujara is consistent but he is certainly a work in progress, especially in the 50-over and T20 formats.
However, the Vijay Hazare Trophy is also serving as an opportunity to play competitive cricket and could be termed as worthy preparation for Pujara's County stint.
"I am looking forward to the County season as we will be playing Test matches in August. I was with Yorkshire in 2015 when we won the County Championship. It's a fantastic team with a good bunch of professionals, which helps me become a better cricketer," he quoted.
Known to grit out difficult conditions and sessions over sessions, Pujara wants to experience rough and cold English weather and pass that test. It will be quite chilly in early summer and even a batsman of Pujara's calibre will be tested.
"Look, playing at Headingley in early English summer with temperatures around 4 or 6 degrees will test any batsmen's technique and temperament. Even scoring a 50 is tough. By the time, India tour starts, it will be a bit more pleasant," said Pujara.
India land on the English shores in mid-July when the temperatures usually rise to 30-35 degrees Celsius, making the pitches as dry as they can get. Swing, though, still remains the biggest challenge. Since Pujara will experience the transformation from cold to warm and moist wickets to dry ones, the India No. 3 will be in a position to suss out the conditions well during the tour.
"Now playing Division 1 has its advantages. I will be playing against Middlesex (Lord's), Warwickshire (Birmingham) and Surrey (Oval) in away games, where India will play Test matches. So I will get a fair idea about the pitches and conditions," Pujara said.
Moving towards the next step. Upwards and onwards! #Saurashtra #VijayHazareTrophy pic.twitter.com/6e56oGdiC3

— cheteshwar pujara (@cheteshwar1) February 14, 2018
Having played in South Africa a few weeks back, Pujara displayed a refined understanding of tackling bounce and movement. England, compared to South Africa, could be trickier as prodigious swing and movement test a batsman's skill and patience.
It's a slight but important adjustment that batsmen are expected to make. While Pujara said that he will stick to basics, using lighter bats as one of the adjustments, pace of the bowlers and the quickness of English surfaces makes imperative for the batsmen to sync their bat swing accordingly. Sometimes heavier bats delay the downswing by a nanosecond, which could prove costly.
"The basics will remain the same but the primary criteria of doing well is respecting conditions. Technically, it's more or less same. I use lighter bats when playing overseas. Also, the kind of fight we put up in South Africa will augur well for us in England. Maybe we could have batted a bit better but we were in with a chance in all games," said Pujara.
Lastly, with India dominating many an opposition with the help of their wrist-spin duo of Yuzvendra Chahal and Kuldeep Yadav, Pujara said that the only way to succeed against them is to pick their variations from their wrists. 
"It will be difficult if you can't pick up the variation from wrists. If you can't differentiate Chahal's googly from his flippers, then there's trouble. You have to have an understanding which way the ball would turn," Pujara said.
The South Africans have been at sea facing Chahal and Kuldeep and conceded the ODI series 1-5 to the visitors before spicing up the T20I series on Wednesday, when they won the second match to take the three-match rubber into the decider on Saturday.