SA20 2023: Repeat your 162 for the MI Cape Town family, Suryakumar Yadav tells Dewald Brevis
Dewald Brevis admitted that how much he misses spending time with Rohit Sharma, SKY and his other MI teammates and cannot wait for the next season to start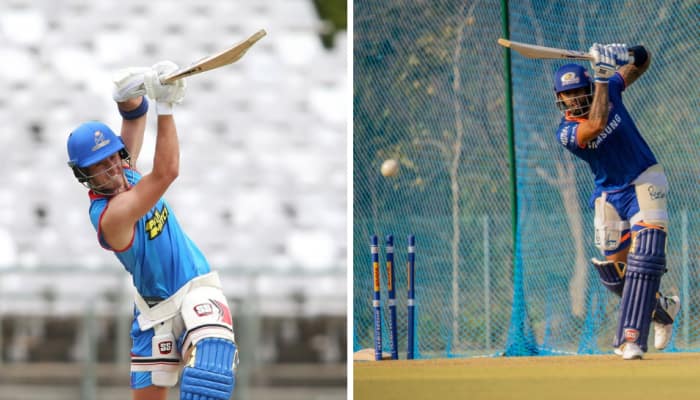 Dewald Brevis is set to play cricket for two franchises of the Mumbai Indians family as the South African batter is getting ready for the upcoming SA20 2023 season with MI Cape Town. The teenage batting sensation of South Africa recently talked to his Mumbai Indians teammate Surykumar Yadav.
The 10-minute-long video shared on MI TV is full of fun, banter and camaraderie between the two. The talented uncapped cricketer from South Africa expressed his happiness for being a part of the MI family in not one but two big leagues.
Apart from sharing the dressing room with SKY in the IPL, Brevis will now represent MI Cape Town in the inaugural edition of the upcoming SA20 in South Africa.
Surya, the numero uno position in the ICC T20I Rankings, lauded the young Protea for his knock of 162 off 57 balls during an CSA T20 Challenge game. Starting the conversation in his witty style, SKY quipped, "Last time I saw you smashed 160-165 runs off 50-55 balls in a T20 game. So now in ODIs, if you get to bat around 100 balls, are you going to score a triple hundred."
Replying to which Brevis said he would love to do that but insisted that he would approach every format differently by assessing the conditions. The teen sensation even hailed SKY's batting exploits in the T20Is.
Surya was in awe of Brevis' knock of 162 and even asked the youngster what did he eat that day. To which Brevis gigglingly responded, "It was like another normal day for me. It (that knock) just happened. I didn't even realize what I was doing at that moment, everything just happened in the moment, at one point I even told the non-striker that I think I'll try and hit every ball for six. I don't know it just happened it was a special innings. But I must say that what you have achieved is like incredible, congratulations on being the no.1 T20I batsmen."
The India star responded to the young Turk saying, "I am just trying to copy you sometimes. The way you bat. You have to teach me one thing, how do you that no-look shot, no-look six? I just want to learn that from you." Brevis responded by saying, "I would be an honour, but I would love to learn lots of shots from you as well. The funny thing is My no – look shot just happens, it's weird but I don't know it just happens."
The chat between the two wasn't just about cricket! The South African informed that he cooked butter chicken at home and wishes to excel in it. Surya even told Brevis that his wife will cook all his favourite Indian dishes when he's in India, and the foodie in the youngster said, "Please, I really need it, my body needs it. I'm not going to lie."
Brevis even admitted that he really misses spending time with Rohit Sharma, SKY and his other MI teammates and cannot wait for the next season to start.
Brevis told SKY that he's looking forward to sharing the dressing room with some T20 specialists in MI Cape Town, "It's going to be so exciting. It's going to be good. It's such a big thing. Especially this year, I really can't wait to meet the superstars that I am going to play with. It's a great opportunity to learn and grow. The MI Family is one big family, and its lovely to be part of it."
Over the last 15 years, Mumbai Indians has emerged as the most consistent cricket franchise maintaining its Number Uno position with seven titles, which includes a record 5 trophies in IPL and two Champions League T20 titles. Brand Finance, a global brand valuation agency recently accorded AA+ brand strength rating to Mumbai Indians. MI has a strong digital presence with over 31 million fans - the much loved #MIPaltan - from across the world. High stakeholders' trust, brand investment, fan engagement and performance make MI a brand that adds immense value to the global cricketing ecosystem.
Live Tv