Weekly Tarot Card Readings 2023: Horoscope January 1 to January 7 for all zodiac signs
Weekly Horoscope, Tarot Card Readings 2023: Read the New Year Tarot Card predictions for all zodiac signs and plan your day ahead.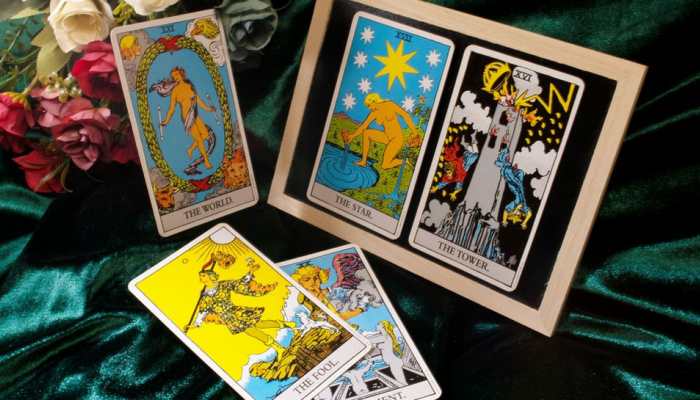 Aries
On the romantic front, you may find it difficult to adjust and accept your partner's behaviour. Participate in domestic matters to avoid the disappointment of family members. Singles, avoid making a hasty decision; you may make a wrong choice. Students will perform well academically. Some of you may gain financially from a new business or venture. Job seekers are likely to get a dream job. Investment in a property will be lucrative, bringing great returns later.
Taurus
The week would be full of promises and bring opportunities. Your love life will be blissful, and you will cherish the time spent with your partner. If you are dating, your friendship could grow into a romantic one. A joyous celebration in the family is approaching. On the professional front, you are expected to succeed in your endeavours. An ongoing project will keep you busy.
Gemini
You will enjoy an intimate time with your partner. Plan picnics and outdoor fun activities with family. Singles can consider getting back into the dating game once again. You will succeed in your business and professional endeavours; your seniors or boss will appreciate your efforts. Keep up the hard work. You may have enough money and financial resources to make a short-term investment.
Cancer
A fantastic and happy time awaits you. Peace and harmony will prevail at home. You and your partner will enjoy sweet moments of togetherness. Those looking for a matrimony match will have luck favouring them this week. On the professional front, your dreams are likely to turn into reality with your hard work and dedication. You will earn praise for a task well done.
Leo
It will be a great week for domestic affairs; however, all the work and responsibilities might make you feel exhausted. Nevertheless, your professional life is likely to thrive, and you will be rewarded for your performance in the form of a bonus or a promotion. Receiving money from unexpected sources is foreseen. You are likely to get things pending tasks finished. You may share an excellent rapport with your peers and bosses alike.
Virgo
Your relationship may lack intimacy and passion. But being patient and understanding your partner will pay off. It might feel like one-sided love if you are dating, but don't give up just now. Avoid negative behaviour at home; it may disrupt harmony. Be careful with the choice you make at work. Take your time in making a job or career-related decision. Spending on unnecessary things may pinch your pocket later.
Libra
This week you will be filled with enthusiasm and fire to speed up things. Your bond with your partner will strengthen, and spending quality time with them will positively impact your relationship. Follow your heart, and it will take you places. Signing contracts and acquiring new clients will help you expand your business and bring financial gains. You will be able to complete your pending tasks efficiently.
Scorpio
Stay alert and don't let your guard down, as a tough time in relationships and your profession is foreseen. You may feel left out, and there could be misunderstandings or rifts in your relationship with your partner. Keep your cool and do not get into a fight despite provocation; it may sour your connections with friends and associates. Avoid ignoring even minor health issues.
Sagittarius
You will experience growing love and intimacy between you and your significant other. Home renovation and improvement are also on the cards. Your hard work and commitment will pay off in days to come. Some of you may get a job offer, providing a satisfactory salary package. The week may be profitable in terms of income opportunities, windfall and investments. New sources of income might emerge for some.
Capricorn
The situation at home will be a bit tense, and there could be differences with your partner. Talking to someone who understands you will ease the tension. A persistent health issue may cause discomfort and affect your daily routine. Practice meditation to relieve stress. However, you will be steadfast at work and get things done quickly, which will likely bring you appreciation. Money lent to someone is likely to be returned.
Aquarius
All the aspects of your life will be fine. You will enjoy a fun time with your family. However, you need to take steps to add excitement to your love life. Your career will benefit from your hard work and dedication. A new prospect may emerge for you at work, improving your position at your workplace. If you start a new business venture at this time, it is likely to be lucrative and grow in the coming months.
Pisces
On the romantic front, the time you spend with your partner will bring them closer to you emotionally. On the other hand, your work commitments might keep you from spending much time with your family and children; however, you must strive to create a balance. It may be a good time to progress in your professional endeavours. A job offer, promotion or a long-due increment may come your way. Keep a tab on spending and plan your finances carefully.
(These Tarot Card predictions are by Chhavi Upadhyay, who is a Delhi–based, intuitive Tarot Practitioner & Consultant)
Live Tv