Transport unions hold day-long strike against amended Motor Vehicles Act, commuters in Delhi-NCR hit
Thousands of commuters in Delhi and National Capital Region (NCR) are expected to face tough times on Thursday as transport unions have called a one-day strike to register their protest against the newly amended Motor Vehicles (MV) Act and the steep hike in penalties proposed in the Act for violating traffic rules.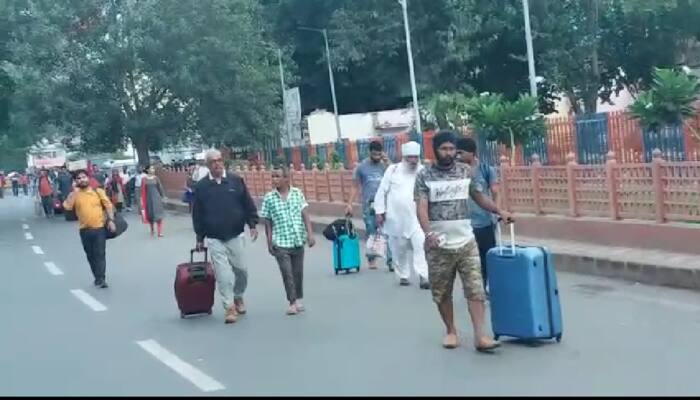 LIVE Blog
NEW DELHI: A transport strike call on Thursday against the amended Motor Vehicle Act (MVA) in Delhi and the adjoining National Capital Region (NCR) areas affected people badly as cabs, auto-rickshaws and private buses remained off the roads. Not only office-goers faced difficulties in reaching their workplaces, parents too had a hard time while taking their children to schools on Thursday morning. In fact, some schools in Delhi remained shut in view of the strike. Many parents received SMSs from schools intimating them about the closure in view of the day-long strike.
The call for the strike had been given by the United Front of Transport Associations (UFTA)-- an umbrella body of over 50 unions in Delhi-NCR -- against the steep penalties under the amended MVA.
However, Delhi Metro came as a breather for the harried commuters. The Delhi Transport Corporation (DTC) buses also were on the roads easing the pain of commuters.
Here are the latest and live updates of Delhi-NCR transport strike:
09:53 AM
Transporters are not against the increase penalties under the MV Act but they are against the way of its implementation. Over 40 transport associations are protesting and around 2 lakh vehicles are on strike, We are not supporting anyone who are causing nuisance on the road: Rajendra Kapoor, convenor of United Front of Transport Associations
09:49 AM
Transporters are forcing people to get out of office shuttle vehicle. Many college students have failed to reach the college due to strike. Some women were reportedly threatended when they were sitting inside a private bus.
09:07 AM
There is no effect of strike in Gurugram and the situation is normal. The auto and cab drivers are not even aware of the strike called by transporters.
09:01 AM
In Noida, cab drivers are planning to go on strike after 10 AM. Talking to Zee Media, several cab drivers said that they will join strike after 10 AM.
08:51 AM
Anamika Gupta has come to Delhi from Jammu and Kashmir for treatment but they were unable to find any taxi outside state. Anamika and her family finally took a rickshaw to reach the nearest metro or bus station.
08:46 AM
Kanchan Banerjee from West Bengal has undergone a leg operation and it is tough for him to walk even with a support. He waited for a long time at railway station for taxi but in vain. Banerjee has to go to Rajendra Nagar.
08:07 AM
The commuters are facing tough times due to strike as transporters are stopping buses, cabs and autos at different places. The transporters have started stopping DTC buses in front of Noida phase 3 police station.
07:52 AM
Reasons behind transport unions decision to call the strike:
1. Changes in amended Motor Vehicle Act 2019
2. Reduction in penalties under MV Act 2019
3.  Irrational and unviable increase in the rates of income tax, vide sec 44-AE, for HGVs (heavy goods vehicles).
4. Insurance and medical safety for drivers of private vehicles.
5. Protest against government's decision to privatise airport and railway station in Delhi
07:48 AM
A student from Gurgaon missed his train at 6 AM due to the transport strike as he was unable to get an auto. The student tried to board metro but metro was not running at that time. The student wanted to go to Kurkushetra University to submit some important documents.
07:48 AM
A 68-year-old scientist named V P Khare who has reached New Delhi from Lucknow was not allowed to take a Uber taxi at station by workers of transport unions. Khare was forced to walk towards his destination with his 67-year-old wife.
07:32 AM
Nearly all schools in Noida are closed due to the transport strike.
07:30 AM
Striking transporters are not allowing passengers to sit inside taxis at New Delhi station.
07:30 AM
The UFTA has claimed that both the Centre and the Delhi government have forced the transporters to call the strike in order to register their protest.