New Delhi: Summer vacations are on and last minute ticket-booking for the most-anticipated holiday destination can become hassle free if you are aware of the Tatkal ticket rules.
Though there are no new changes in Tatkal booking in 2018, a quick brush-up of the Tatkal rules will come handy for those who would want to book tickets at short notice.
(Also Read: Book Tatkal tickets through IRCTC and pay later – Here is how it works)
Here is all you want to know about booking, refund and fare details of Tatkal tickets
- Tatkal booking opens at 10 AM for AC Classes and 11 AM for NON-AC Classes on one day in advance of the actual date of journey excluding date of journey. For example for train leaving on 6th, Tatkal Booking will Commence at 10 am for AC Classes on 5th and at 11 am for NON-AC Classes on 5th.
- As per the IRCTC website, the Tatkal Charges have been fixed as a percentage of fare at the rate of 10 percent of basic fare for second class and 30 percent of basic fare for all other classes subject to minimum and maximum as given in the table below.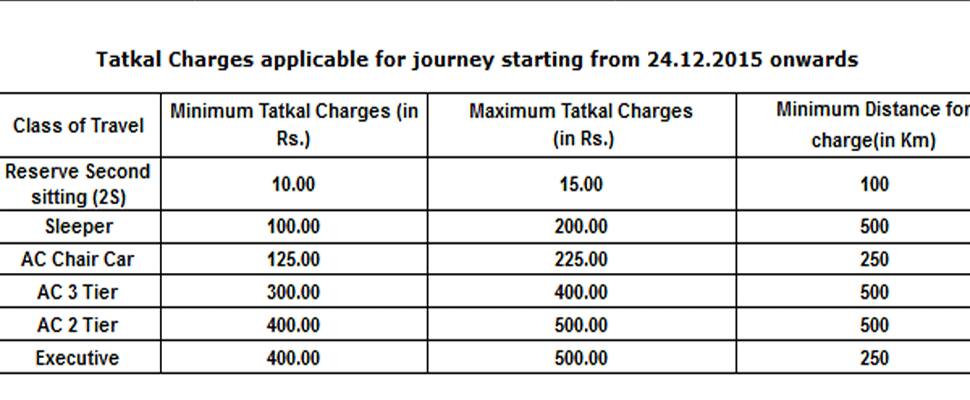 - Passengers can claim full refund of fare and Tatkal charges if the train is delayed by more than 3 hours at the journey originating point of the passenger and not the boarding point if the passenger's journey originating point and boarding point are different.
- Refund will be also given if the train is to run on a diverted route and passenger is not willing to travel. If the train is to run on diverted route and boarding station or the destination or both the stations are not on the diverted route.
- In case of non attachment of coach in which Tatkal accommodation has been earmarked and the passenger has not been provided  accommodation in the same class, passengers can claim refund.
- If the passenger has been accommodated in lower class and does not want to travel. In case the passenger travels in lower class, the passenger will be given refund of difference of fare and also the difference of Tatkal charges, if any.
- You can book a maximum of only four passengers per PNR for Tatkal tickets.
- The facility of change of name is not permitted on the bookings made under Tatkal scheme.